Tales from the mat
The finals of the Chevron/HHSAA Wrestling State Championships on Saturday provided some pristine moments. There were also some cerebral thoughts from champions, and at least one shocking experience for a would-be champ.
» Keiko Akamine, Iolani, 103-pound girls champion, on her match with unseeded Macy Yonamine of Kamehameha: "I had a hard time getting my shots against her. She has really good balance."
Akamine now has back-to-back titles at 103, and could make it three in the same weight class as a senior.
"I haven't grown since fifth grade," Akamine said.
Risha Mishima, Hawaii Baptist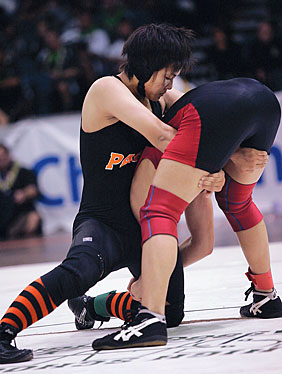 »
Travis Okano
, Lahainaluna 130 boys champion: "I've stayed with the basics. I didn't add anything, just kept to the basics," he said.
Okano joined an elite club of three-time state champs. As a sophomore, he won the 119 title; then he captured the 125 crown as a junior.
» Chad Diamond, Mililani runner-up in the boys 135 division: Diamond thought he had a lead in a wild battle with Waiakea's Ryan Higa. The Waiakea wrestler emerged with a 17-14 lead in the final minute, but Diamond was confused and thought he had the lead.
He wound up losing, and was incredulous about the finish.
"I thought I had 17. That's why I didn't do anything in the last 10 seconds," he said. "I thought I won."
Lake Casco, Lahainaluna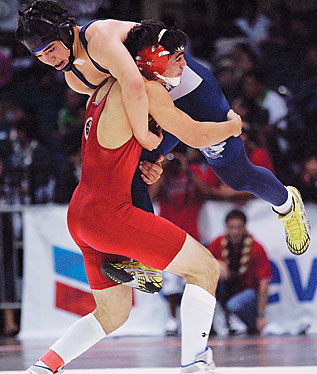 »
Lowen Tynanes-Perez
, Kailua, 171 boys champion: His perfect senior year could be a launching pad to a collegiate career. He plans to attend a junior college, but if that doesn't pan out, he may follow in the footsteps of his father, who is an ultimate fighter.
» Jamin Meletia, Kamehameha, 215 boys champion: Meletia was upset in the ILH tournament by his eventual state-final foe, Matthew Sasaki.
"That woke me up to see that championships are earned. It's not about thinking you have to do something," he said.
"It's about desire."