Isle pages
"Kapu 'Aina: Forbidden Land"
Terry Fritts (Echo Park Press, $14.95)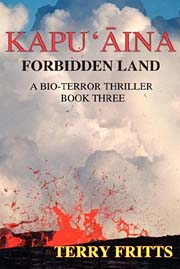 The third part in Terry Fritts' "bio-terror thriller" series is set on Oahu, the Big Island and waters in between, involving a master criminal, Aioka Matsuura, who thinks like this: "Aioka would give them such terror, terror like they had never before witnessed on American soil, terror that would blind them to the real attack he had always planned. More blood than they could ever imagine!"
Fritts reassembles his anti-terrorism team from previous books, although he quickly kills one of them off. The plot corners the market on weapons of mass destruction, from suitcase nukes to anthrax and ebola attacks. It's all a rather breathless race to the finish line, but if you're a follower of the series, this installment won't disappoint.
---
Betty Shimabukuro