| | |
| --- | --- |
| | Island Mele |
---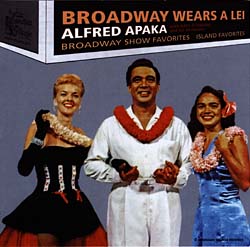 "Broadway Wears a Lei"
Alfred Apaka
(Hawaiian Village)
The importance of good annotation is demonstrated once again with the reissue of this obscure but significant 1958-vintage album. No one in Hawaii should need to be told that Apaka was the biggest star in Hawaiian music in the 1950s, or that he seemed poised for national stardom as a mainstream entertainer when he died unexpectedly in January 1960.
But that was almost 50 years, so maybe they do.
From 1955 until his death, Apaka was the star entertainer at Kaiser's Hawaiian Village (now the Hilton Hawaiian Village). The hotel was home to a radio and television station, and in 1958 a record label was added as well. Apaka had previously recorded for several labels -- some local, others national; now he and Kaiser had one of their own.
None of this is mentioned in the liner notes of this recording. On one hand, it's great to have the original annotation from 50 years ago. On the other, why not add at least a bit of an update?
Veteran conductor/arranger Axel Stordahl succeeds in fitting together an assortment of Broadway hits and Hawaiian and hapa-haole standards as a perfect showcase for Apaka. "Hello Young Lovers" and "I Could Have Danced All Night" displayed Apaka's potential as a pop crooner. Equally important, Stordahl's orchestral arrangements of "Akaka Falls" and "Lel Aloha, Lei Makamae" present familiar melodies in a new context -- as of 1958, anyway. His swinging version of "Queen's Hula" would not have been out of place on a pop album of the day.
It is good to have these recordings back in print as a complete album rather than as an anthology of recordings from different releases.
---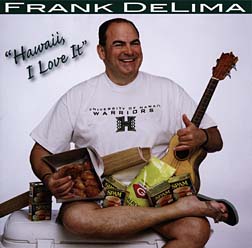 "'Hawaii, I Love It'"
Frank De Lima
(Pocholinga Productions)
Frank De Lima celebrated his "silva anniversary" in 2001 with a bare-bones CD with no cover -- just a jewel box. This one has a cover, and it shows De Lima with things he loves about Hawaii. The contents are standard De Lima fare: parodies of national pop hits, excerpts from live performances and several "Portagee" jokes.
De Lima and his longtime writing partner Patrick Downes build on their previous success as political commentators with "Pawdagee Isle." The song is their take on the Superferry controversy set to the melody of "Gilligan's Island."
Another local event is covered with "One Really Bad Day in Paradise" and "The Great Hawaiian Earthquake" (The credits note that they are two versions of the same song).
Comic sketches include Cardinal Vermicelli's warnings about "Da De Lima Code," De Lima's experiences with dieting, and the joke about the state worker who is so fast that "he pau 4:30, but he get home 3 o'clock."
De Lima goes deep into his archives with "Covers and Pens," a parody of Audy Kimura's 1983 hit "Lovers and Friends."
Kimura isn't credited as the composer, and he deserves acknowledgment. Ditto Tim McGraw, whose 1995 country hit, "I Like It, I Love It," is the song De Lima and Downes use to create the title song of this album. Why not give credit where it's due?
---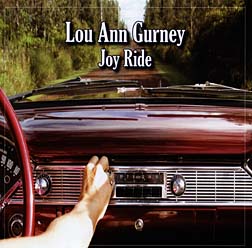 "Joy Ride"
Lou Ann Gurney
(Perryscope)
Jazz vocalist Lou Ann Gurney teams up with musician/arranger Greg Perry on this beautiful collection of American jazz standards. She deftly illuminates the emotions in the lyrics and makes each song worth hearing. He presides over an assortment of keyboards while leading a tight group of studio musicians. It's a perfect partnership.
Perry's three-man horn section adds impact to Gurney's swinging rendition of "There Ain't Nobody Here But Us Chickens," and slips in some noteworthy accents to "The Frim Fram Sauce." Gurney and Perry pay homage to Nat "King" Cole with a clean and mellow arrangement of "(Get Your Kicks on) Route 66." Next comes a soft and sweet rendition of "(Our) Love is Here to Stay," and several songs after that make a romantic detour into bossa nova.
Gurney completes her beautiful calling card by including brief comments about each song in the liner notes.
John Berger
, who has covered the local entertainment scene since 1972, writes reviews of recordings produced by Hawaii artists. See the Star-Bulletin's Today section on Fridays for the latest reviews. Reach John Berger at
jberger@starbulletin.com
.