Stories capture complexity of love
Love is alternately awfully complicated and awfully simple. But most times, what it really is, at least for those just starting out on the path, is that one moment when everything comes together. That's where two manga anthologies -- "A Perfect Day for Love Letters" and "X2" -- come in, capturing that dichotomy while still holding out some hope in the romantic notion of innocent love.
The two-volume "A Perfect Day for Love Letters," by George Asakura (who apparently is a woman, by the way), deals mostly with high-schoolers who share their feelings with each other through the printed word, but adults have their brief spotlight, as well. In the story "The Mailman's Love," beautiful but blind Sawako is an aspiring cellist whose teacher, Atsuji, was also her lover. When the man stops coming for lessons and Sawako receives a letter for the first time, her mailman naturally notices.
Sawako is thrilled to receive the letter from Atsuji and begs the mailman to read it to her. Instead of the expected loving note, the single sheet inside contains a few lines ending their relationship. But the mailman, unwilling to break the heart of the woman he loves, makes up a completely different message that promises more letters to come. Sawako fondly caresses the supposed love letter, and the mailman is trapped writing letters every day, each time pouring out more of his own heart to the young woman.
When the illusion is finally shattered, Sawako is at first anguished and confused. But the mailman's words -- and his face -- eventually touch her soul.
While the medium of the love letters is mainly handwritten words on paper, other modes of communication come into play in Volume 2. In "Lovers on Planet Icarus," it's a videotape that attempts to bridge the gap between life and death, love and hate. Teenager Kenji has always lived in the shadow of his smart and favored older brother, Koichi, who has constantly picked on, teased and tattled on the younger boy. So when Koichi falls ill, with only a 15 percent chance of a successful treatment, Kenji isn't the least bit unhappy. After Koichi dies, the teen couldn't be more ecstatic, especially since he is now the owner of an $5,000 digital video camera bought shortly before Koichi's death that the elder brother promised to Kenji.
But along with the camera, he finds a letter from his brother requesting that he deliver a videotape to Koichi's girlfriend, a woman working at a massage parlor, whom he met just a few months before his death. Kenji reluctantly does so, and in the process discovers a more caring side to his brother, one that extends even to Kenji himself. It's not enough to erase a lifetime of sibling rivalry, abuse and hatred, but it does ease some of the pain of not only past wrongs, but pain at his brother's death that Kenji hadn't realized he was capable of feeling.
Series like "Love Letters" remind us of the power of words -- not only the flamboyant words that are carefully chosen and pieced together to create poetic sentiments, but also the simple ones that are just as heartfelt, the ones that come unbridled from the soul infused with the brilliance of honest emotion.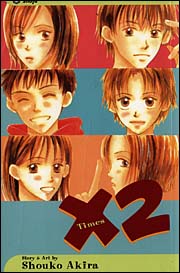 THE anthology "X2" (that's pronounced "Times Two"), by Shouko Akira, continues in the same vein of detailing the perils of budding teen romance and how the smallest acts can set off a flurry of emotions.
In the story "Expiration Date 2001," a can of soda given as a gift becomes a symbol of hope for a relationship. Miwa, a runner on the track team, has had a crush on fellow teammate Kenta since they both joined the team in their first year in high school. When Kenta gives her a soda as thanks for helping him clean the team room after practice one day, she's thrilled and decides that the drink's expiration date of July 1, 2001, would be her deadline for becoming Kenta's girlfriend.
But the months and then years pass in vain, and Miwa and Kenta are now in their last year of high school. With just one more month until the track season ends -- and until the soda expires -- Miwa, with the help of her friends, goes into overdrive trying to tell Kenta how she feels. But effort after effort hit a dead end until finally, after the fated expiration date passes, Miwa simply returns Kenta's original gesture -- and learns that that seemingly trivial token, along with just a few words, say far more than all her other, grander schemes combined.
Whenever we get into the mind-set that "bigger is better," it takes a great deal of effort to slow down and remember that most times, the cliché holds true and it really is the thought that counts.