Union's Hall led isle striker brigade
"A Spark Is Struck: Jack Hall and the ILWU in Hawaii," by Sanford Zalburg (Watermark, 2007, $17.95, available in bookstores or from sales@bookshawaii.net)
On Thursday, PBS Hawaii will broadcast "Jack Hall: His Life and Times," a documentary about one of Hawaii's most influential union leaders. By a nice coincidence, Watermark Publishing has issued a fresh edition of Sanford Zalburg's definitive 1979 biography of Hall, "A Spark is Struck." Both events will focus new attention on an undeservedly forgotten figure.
The author -- who died Feb. 16 at age 90 -- knew his subject personally, as a reporter covering Hall's activities from 1959 until his death in 1971. Zalburg's myriad references (though this is not an "academic" book) include interviews with Hall's friends and comrades, together with thousands of International Longshore and Warehouse Union documents.
Zalburg's detailed presentation of Hall's life and career is divided into a series of compact chapters, 82 in all, vectored in a lively journalistic style. Short, active-voice sentences, supported by rapid-fire endnotes elaborating the text, keep the narrative animated.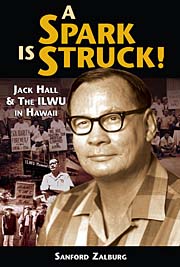 A merchant mariner, Jack Wayne Hall arrived in Honolulu in 1935, quickly establishing himself as an articulate labor organizer. Radicalized by the San Francisco docks -- think Marlon Brando in "On the Waterfront" -- he was never afraid of confrontation, political or physical. In the process he helped build the ILWU into one of Hawaii's most militant and effective unions.
Tall, thin and restless, Hall became prominent during the bitter strikes of 1938 and 1941, which led to Hawaii's first written labor contracts. They also taught Hall that union struggles are equally political and economic. Under his leadership the ILWU helped drive the so-called Democratic Revolution of 1954, which shifted control from Republican to Democratic hands. Gov. John Burns became one of his closest friends.
Hall's greatest moments -- the events that defined his organizational life -- occurred in the years following World War II. In 1946 the ILWU supported sugar workers in an action that shut down 33 of the islands' 34 sugar plantations. Its most significant long-term results were the realizations that big strikes could be won and that the way to win them was to overcome the racial and ethnic prejudices cultivated by the lunas (supervisors).
In 1949 the ILWU struck the Big Five plantation interests in an ugly and brutal struggle mostly remembered for its violence and the Honolulu Advertiser's "Dear Joe" editorials accusing Hall of taking orders directly from Stalin. The "red scare" sentiment led to Hawaii's own McCarthyite panic in the 1950s. Six union leaders, including Hall, were tried and convicted of communism, verdicts overturned on appeal in 1958.
Hall left Hawaii in 1969 for the West Coast, where he died two years later. Throughout the region flags flew at half-mast, longshoremen closed the ports of San Francisco, Los Angeles and San Diego, and thousands in Hawaii and Canada also put down their tools to show their respect.
Zalburg has a reporter's eye for detail and a writer's delight in neat turns of phrase: Hall's mind was "pliant as tallow"; the wind on Lanai "whistles a tune from the top of the Norfolk pines," and so on.
At the same time, Zalburg keeps his focus on the big picture. In addition to Hall's story, "A Spark Is Struck" is a revealing and informative analysis of Hawaii's labor history and the often underappreciated role it played in the state's political and social evolution.
Hall described himself as "a rebel in paradise ... just one of the guys who struck a spark for a flame that kept burning." More generously, Burns said, "I don't think there has been any single individual in the last 30 years who has made a more substantial contribution to our political, social and economic life."
---
KHET/PBS will present "Jack Hall: His Life and Times" at 8:30 p.m. Thursday.
Michael Egan is executive editor at Trade Publishing Co. and scholar-in-residence at Brigham Young University-Hawaii.