| | |
| --- | --- |
| | Island Mele |
---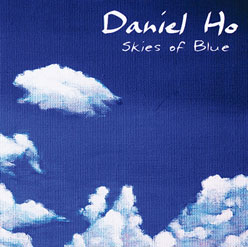 "Skies of Blue"
Daniel Ho
(Daniel Ho Creations)
Although Hawaiian music has made Daniel Ho a three-time Grammy Award-winning producer, he has deep roots in American pop as well. Owning a record label in Los Angeles gives him the freedom to occasionally set commercial considerations aside and do an album like this one.
The production credits indicate that this was originally recorded for the Japanese market, but -- waste not, want not -- it's now available here as well. Anyone who enjoyed his last pop album, "Simple as a Sunrise" in 2004, will enjoy his work here as well.
The different is that "Simple" included a number of originals -- and showed Ho's talent as a composer and lyricist. There are no originals here.
Japan is apparently an inexhaustible market for pop-chart remakes; "Skies" is a mixed bag of vintage material that Ho interprets as acoustic light rock. Some selections are an easy fit -- "If," the 1971 Bread hit, for example. Others are a bit more of a stretch.
"Hotel California," the lead-off song, is one of them. It's so well known in its original form as a 1977 million-seller for the Eagles that tampering with it could easily backfire. Fortunately, since first impressions are as important with albums as they are in social situations, Ho succeeds in offering a viable alternative take on the song.
Reworking Berlin's electro-pop smash, "Take My Breath Away," as acoustic rock also turns out well. Adding an assertive drum beat to "What a Wonderful World" gives that otherwise over-played song a fresh feeling of optimism and hope.
Ho sings with the easy style of a coffee-house veteran, and accompanies himself on guitar and ukulele. A three-man rhythm section adds subtle support on some selections and punch on others. An extended arrangement of "Every Breath You Take" shows the ensemble's strength in both capacities.
John Berger
, who has covered the local entertainment scene since 1972, writes reviews of recordings produced by Hawaii artists. See the Star-Bulletin's Today section on Fridays for the latest reviews. Reach John Berger at
jberger@starbulletin.com
.