---
FAST FACTS HAWAII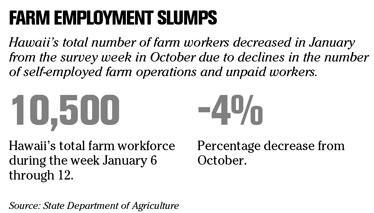 ---
Young Bros. to boost fuel fee
Young Bros. Ltd.
said yesterday it plans to increase its fuel surcharge to 2.5 percent to 3 percent beginning March 1 because of a nearly 22 percent rise in fuel costs over the last six months.
The interisland cargo shipper implemented its first fuel-price adjustment of 1.29 percent on Dec. 4 after receiving approval from the state Public Utilities Commission in October. The fuel surcharge is reviewed quarterly.
Young Brothers President Glenn Hong, noting the company's fuel costs have risen 21.89 percent since last August, said the actual surcharge percentage will be calculated after costs and revenue are received at the end of this month.
"We are continuing to streamline our operations for efficiency, but do need to acknowledge these hefty fuel-cost increases," Hong said.
Young Bros. said it plans to replace the majority of its tug and barge fleet, acquire new containers and cargo-handling equipment, and improve facilities over the next 10 years.
Honolulu Club sold for $18M
Douglas Emmett Inc.'s purchase of the 78,298-square-foot Honolulu Club building on Ward Avenue was priced at about $18 million, the company announced yesterday.
The deal, reached in December, includes the assets of the Honolulu Club, the private athletic and social club that is the anchor tenant.
The real estate investment trust completed the deal in a joint venture with local real estate investor Richard Gushman, who has been the company's local partner of other Hawaii acquisitions.
The acquisition increases Douglas Emmett's Honolulu commercial portfolio to 757,635 total rentable square feet from 679,337 rentable square feet. The Santa Monica, Calif.-based company also owns 1,098 multifamily units in Honolulu.
---
BUSINESS PULSE