Crafty Ching boosts Dynamo past Sydney FC
Ching shows off his passing skills as the Dynamo advance to the Pan-Pacific final
STORY SUMMARY »
Hawaii soccer fans have at least one good reason to head to Aloha Stadium on Saturday for the inaugural Pan-Pacific Championship final: Houston Dynamo forward Brian Ching is still searching for his first goal in the four-team exhibition.
Gamba Osaka will challenge the Dynamo for the title at 8:30 p.m.
Ching, a Kamehameha graduate and Hawaii's first player in Major League Soccer, displayed some gifted passing in setting up two teammates for scores in the Dynamo's 3-0 semifinal win over Sydney FC last night.
Brazilian striker Bare scored in the third minute to lead Gamba, of the J-League, to a 1-0 victory over the Los Angeles Galaxy of MLS in the first game of the doubleheader.
BIG ON BECKHAM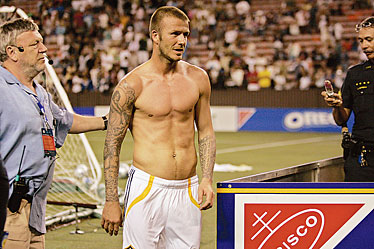 ---
FULL STORY »
In his first full-fledged soccer match at home in 12 years, Brian Ching enjoyed his role as host.
The Haleiwa native and Kamehameha graduate assisted on two first-half goals and his Houston Dynamo rolled to a 3-0 win over Sydney FC last night in a Pan-Pacific Championship semifinal at Aloha Stadium.
The two-time Major League Soccer champions face J-League champion Gamba Osaka on Saturday in the inaugural PPC title game.
Osaka defeated the Los Angeles Galaxy of MLS 1-0 in the first game of the doubleheader.
"It's been a long time," said Ching, who last played here as a high schooler in 1996. "I think we came out and played a great game. Hopefully we can do the same thing on Saturday."
After 26 minutes of scoreless play televised on ESPN Classic, the Dynamo unloaded on hapless Sydney with three first-half goals.
Sydney was forced to remain on the defensive for most of the night, especially in the first half, as the MLS champions were both crisp and confident early. Though only a few weeks into the league's preseason, Houston played to midseason form.
Sydney, meanwhile, just concluded its season after losing in the Hyundai A-League semifinals, and seemed ready to settle into its offseason.
"We were a bit rusty," Sydney coach John Kosmina said. "We had a long season ... but (the tournament) is a fantastic concept."
Apparently, Ching was able to convey some of the aloha spirit to his teammates -- after the first two Dynamo goals in the 27th and 28th minutes, scoring midfielders Dwayne De Rosario and Stuart Holden did some impromptu hula dancing for the crowd announced at 15,128. Ching then set up Chris Wondolowski for the third goal at 43:00, and Wondolowski sprinted along the sideline giving the crowd a shaka.
"I have to apologize for that. They were terrible," Ching said with a wide grin. "Pretty embarrassing, but they just decided to do that and it was a pretty good laugh."
Several fans wore orange "Hawaiian Brian" Dynamo shirts, and loudly chanted "Brian Ching!" and several other variations of the popular local star's name. Still, many fans left after the conclusion of the first game and the departure of Galaxy star David Beckham, and it was a relatively sparse crowd by the end of the night, in part due to the nightcap's lopsided nature.
Ching said he thought "the whole stadium" were his friends and family in attendance.
Ching himself was the recipient of a wide-open cross in the 31st minute, but his shot sailed wide, and the forward pounded his fists on the ground in good-natured frustration.
He was replaced by Geoff Cameron in the 64th minute to a loud ovation.
"A little unfortunate tonight, but was able to create a lot of opportunities," Ching said. "The team finished well."
"We didn't want to be too picky," Dynamo coach Dominic Kinnear said. "Any time you win 3-0, but he's not a part of it, he's still dangerous."
De Rosario took a lateral pass from Ching 28 yards out for a blast into the net up the middle, and De Rosario paid it forward to Holden with a great setup 1 minute later. Holden took the pass and his turnaround blast around a defender connected from the right.
Gamba Osaka 1, Los Angeles Galaxy 0
Some early offense was enough to get Gamba Osaka to the inaugural Pan-Pacific Championship title game.
Brazilian striker Bare, the J-League's second-leading scorer in 2007 with 20 goals, didn't waste any time in getting Gamba off to a quick start. His goal in the third minute was the only score.
Gamba was missing seven of its regulars from its 2007 J-League championship squad to play for the Japanese national team, but that didn't appear to hurt Osaka -- it still had its big gun, Bare, and the team displayed sharp passing throughout in outshooting the Galaxy 18-6.
In the third minute, the mono-monikered star took a swift upfield pass along the left, beat the Galaxy defense and drilled a shot into the net across the front of Los Angeles goalkeeper Steve Cronin.
"We were all very worried about the Galaxy," said Bare, whose real name is Jadar Volnei Spindler, through a translator. "We have a lot of respect for them ... and had to play with a lot of strength. They had their chances to score. A 1-0 score is the sign of a difficult game."
Los Angeles' world-renowned midfielder, David Beckham, was aggressive throughout and had several nice passes to counterattacking teammates in the second half, but the Galaxy weren't able to get an unobstructed shot away against the pesky Gamba defense.
The Galaxy's best chance to equalize in the first half came on two Beckham free kicks from 35 yards out, but he couldn't connect with his teammates on his trademark swerving strikes.
Los Angeles coach Ruud Gullit chalked up the slow start to his players' unfamiliarity playing on the stadium's artificial FieldTurf surface.
"In the beginning we had to adapt a lot to the pitch," said the Dutchman. "After 15, 20 minutes we tried to play our football. Of course, we did make our mistakes."
Better communication and some young substitutes from the Galaxy bench led to a flurry of shots in the second half, but none got by Gamba keeper Yosuke Fujigaya.