'Big Beach' lacks baywatch
Funds approved for Maui lifeguards have not been allocated yet
WAILUKU » Government officials are taking too long to get lifeguards posted at the state park at Makena, an area whose shorebreak at "Big Beach" is known for causing back and neck injuries, a Maui activist says.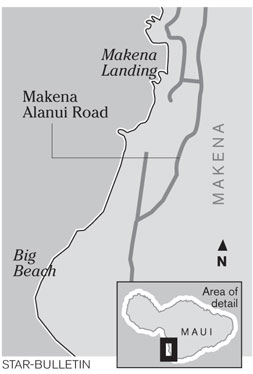 The $406,000 appropriation for Makena, part of $606,000 that was also to pay for lifeguards on Kauai, was authorized seven months ago.
"This is absolutely absurd," said Maui resident George R. Harker, an advocate for lifeguard stations at Makena.
Harker sent a letter on Feb. 4 to Gov. Linda Lingle urging her to exercise the same kind of diligence her administration had in expediting the operation of the Hawaii Superferry.
Harker, a retired college professor who taught parks administration, said the appropriation was put into the budget by state Sen. Rosalyn Baker in response to a history of injuries on the beach.
Harker said he began lobbying for lifeguard services at the park after witnessing the death of Richard McKeon Young of Idaho in rough surf four years ago.
Although people tried to help him, Young died before county lifeguards could arrive from beaches several miles away, Harker said.
Harker met Young's girlfriend and family, and they are in favor of lifeguard services, he said.
Harker, who goes by the nickname "Dr. Leisure," said he knows three people who have broken their necks at Makena beach, two of whom are now paraplegics. He said he is aware of 40 injuries at the state park since July 1.
Although there are signs warning of dangerous surf, there need to be lifeguards to tell people about the dangers of the waves and shorebreak, he said.
Under the appropriation, the state would pay Maui County for lifeguard services.
County Parks Director Tamara Horcajo said she does see a need for the lifeguard services at Makena, and the state and county are working toward an agreement. Horcajo said the state and county were working on the language in the contract, including liability.
State parks Administrator Dan Quinn said the state and Maui County are negotiating a contract to provide lifeguard services for Makena State Park. Quinn said once the agreement is reached, the contract can be executed, and the county will need to recruit, hire, train and equip the new water safety officers.