---
FAST FACTS HAWAII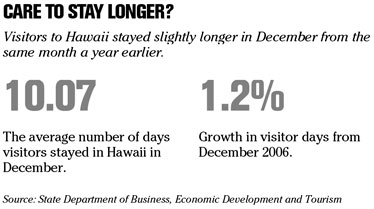 ---
HAWAII
Hawaiian adds 3rd Samoa flight
Hawaiian Airlines
is adding a third round-trip flight between Honolulu and Pago Pago, American Samoa, during the summer to accommodate increased traffic.
The seasonal flight, which Hawaiian adds annually, is effective May 27 through Aug. 26. It will depart Honolulu every Tuesday at 5:05 p.m. and arrive in Pago Pago at 9:30 p.m. The return flight will depart Pago Pago every Tuesday at 11:20 p.m. and arrive in Honolulu the following morning at 5:30 a.m.
Hawaiian also provides round-trip flights between the two destinations every Sunday and Thursday throughout the year.
In addition, Hawaiian is providing a special round-trip flight on July 19 to help meet the increased traffic that will be generated by the Festival of Pacific Arts.
Oceanic adds digital channels
Oceanic Time Warner Cable
starts today with an expanded digital lineup, including KHET-TV on channel 84, KITV on channel 86 and its own OC16 on channel 96.
OC16 programming was also added to the high-definition tier, at channel 1016, as it prepares to have all the channel's local shows produced in HD.
"While still in the process of producing 100-percent true high-def local programming, we are initiating the first step by employing HD up-conversion on channel 1016," said Mitzi Lehano, vice president of programming.
This year the company will begin producing and broadcasting local high school sports in HD, marking its 20th anniversary with the Oahu Interscholastic Association.
NATION
Countrywide delinquency rate up
LOS ANGELES »
Countrywide Financial Corp.
said yesterday home loan delinquencies and foreclosures rose in January as more borrowers struggled to make their mortgage payments.
The nation's largest mortgage lender and servicer said loan delinquencies as a percentage of unpaid principal balance increased to 7.47 percent last month from 7.2 percent in December and 4.32 percent in January 2007.
Foreclosures pending as a percentage of unpaid principal balance increased to 1.48 percent in January, from 1.44 percent in December and 0.77 percent in January 2007.
Extra week aids Abercrombie
COLUMBUS, Ohio »
Abercrombie & Fitch Co.
said yesterday that its fourth-quarter earnings rose 9 percent on increased sales from its expanding Hollister Co. chain that cater to teens and its abercrombie stores for children.
The apparel retailer said it earned $216.8 million for the quarter ended Feb. 2, compared with a profit of $198.2 million a year ago. Fourth-quarter sales rose 8 percent to $1.23 billion, from $1.14 billion. The year-ago quarter had an extra week.
But sales at stores open at least a year, considered to be a key indicator of a retailer's strength, were down 1 percent for the quarter.
WORLD
China's trade surplus jumps
BEIJING » China's trade surplus grew by 22.7 percent in January over the same month last year as foreign demand for exports stayed strong despite worries about slowing global growth, according to data reported yesterday.
The latest figures appeared likely to fuel demands by China's trading partners for action on trade barriers and currency controls.
January's trade gap totaled $19.5 billion, the government's Xinhua News Agency said, citing data from the Chinese customs agency.
---
BUSINESS PULSE