| | |
| --- | --- |
| | Island Mele |
---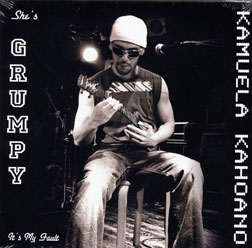 "Grumpy
(She's Grumpy It's My Fault)"
Kamuela Kahoano
(Kahoano Productions)
Even though legal downloads are becoming the "singles" of today's music industry, they don't make the same impression as when presented as a well-packaged "hard copy" release. Kamuela Kahoano proves the point with a CD single out just in time for Valentine's Day.
Kahoano builds on his work as a member of Ano with his brothers Haku and Ikaika back in 1999, and as primary writer/performer/producer of the self-titled debut album by Green Light Go in 2006. Several songs on the GLG album described the pain of male/female relationships. Others displayed his sense of humor as a lyricist. The "A Side" of his new single combines those themes.
Kahoano accompanies himself on ukulele, playing a melody reminiscent of Rap Reiplinger's parody of "Tell Laura I Love Her," as he laments that "I try to do a special something; dinner movie, long walk, and still I get her stinky eye." Attempts at performing a song in the style of early '60s hits usually come off as patronizing, but Kahoano succeeds in being both humorous and sincere. Maybe that's because many men can relate to relationships in which even the slightest faux pas is still being held against them nine months later.
Studio ad libs from other voices off-mike, presumably Kahoano as well, add comic counterpoints to the poignant yet humorous lyrics.
---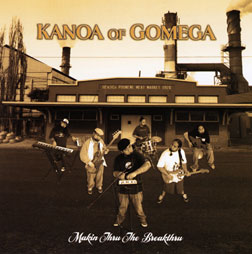 "Makin Thru the Breakthru"
Kanoa of Gomega
(Self-release)
Mackey Feary is forever irreplaceable as a singer and songwriter, but this imaginative debut by Kanoa Kukaua shows that his legacy is alive and well. It's easy to image Feary singing "True," the first romantic cut on the album, and the lyrics and arrangements of several other songs also suggest that Kukaua, a guy with an expressive voice and a knack for memorable lyrics, is a serious Kalapana fan.
Composers' credits aren't included, but the "one sheet" from the distributor reveals that all the song are originals and that Kukaua sang all the vocals and played all the instruments, with the exception of some credited guests.
Kukaua stretches out on "Ode to Nick," a swinging acoustic jazz number with vivid lyrics that describe his response to the plight of a woman whose ex won't leave her alone. Jenn "JROQ" Wright adds the "hip" to a hip-hop number, and Mailani Makainai guests on a soulful pop duet. With "After the Tone" he proves that he can do a whimsical up-tempo techo, too.
Kukaua shows a subtle sense of humor with album art that has him portraying five fictional musicians -- Johnny Kakio, Fatso Masuda, and so on.
"Ultra Boogie," an unlisted track that pops up seven minutes after the final notes of "What Would Do (remix)," adds a taste of his work in concert (Find it as Track 99 on your CD player).
---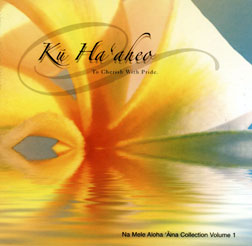 "Ku Ha'aheo: Na Mele Aloha
'Aina Collection Volume 1"
Various artists
(Ka Laua'e Foundation)
It's a fact of economic life that businesses on street level get more walk-in foot traffic than those on upper levels. What to do? Mana Hawaii, a consortium of five "made-in-Hawaii" businesses that share a space on the second level of Waikiki Beach Walk, have teamed up with the Outrigger to create this musical incentive to venture upstairs. The five-song anthology is free upon presentation of a coupon available in "The Best of Oahu," a free visitor-oriented publication -- one per person, please!
The anthology includes one vintage recording each by Ben Vegas and steel guitarist Greg Sardinha, and also a cut from the recently released CD by Blaine Kia. There's also a song introducing two women who perform as Na Wai 'Olu. The final song is a jingle promoting the mall. "Ku Ha'aheo" will be of most interest to visitors happy to get something of substance for free in Waikiki, but residents who happen to be down there will find a stop at the store worthwhile as well.
John Berger
, who has covered the local entertainment scene since 1972, writes reviews of recordings produced by Hawaii artists. See the Star-Bulletin's Today section on Fridays for the latest reviews. Reach John Berger at
jberger@starbulletin.com
.