Valentine's Day weekend offers events worthy of love
WITH VALENTINE'S DAY on the calendar this week, it doesn't matter if you're single or in a relationship; there are lots of choices for those with money left to spend after the Pro Bowl brought out the ballers and shot-callers.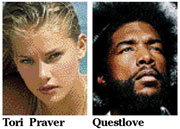 We start with Ahmir Thompson, better known as Questlove from the Roots, headlining at Pipeline Cafe on Saturday. This concert is perfect for couples looking for something different from the traditional flowers and a nice dinner, or those who couldn't celebrate properly on Thursday.
Doors open at 9 p.m. for the 18-and-over crowd, with the Nocturnal Sound Krew on the decks and DJ Jimmy Taco hosting the party. Angel Magik's Young Fyah, Xavier and Jennifer Johns will be joined by local artist Kimo James as the opening acts.
Pre-sale tickets are available online at ww.yourticketpro.com; bring your wristband from last weekend's Bob Marley tribute show and get half off general admission. "Kissing couples" will enjoy a two-for-one ticket deal at the door as well ...
NOT IN a relationship? Sick of the commercialized hype that goes with Valentine's Day? Don't worry, there are plenty of options for singles looking to mingle this weekend.
Friday's "Black Hearts" at Venus Nightclub features half-priced drinks until midnight and promoters ask that everyone come dressed in black formal attire. DJs Technique and Krazy K will be joined by Wild Wild Wes to keep this one going until 4 a.m.
Just up the ramp from Venus, G3N10U5 Productions kicks off "Tres," a new monthly party at the O Lounge. Tonight's theme is "Stupid Cupid," with $2 Bud Light and $3 Jaegermeister specials and no cover before 11 p.m. with an event flier.
And at Aloha Tower Marketplace, the crew behind "Candy" chose the same "Stupid Cupid" theme for Saturday at Chai's Island Bistro. Drown your sorrows with half-priced drinks from 9 to 11 p.m. ...
ANOTHER INSTALLMENT of the annual Sports Illustrated swimsuit issue hit stores this week, with more than 100 minutes of behind-the-scenes footage, more than 1,500 exclusive images and archives of previous issues available online at www.si.com/swimsuit.
Along with cover model Marisa Miller, girl racer Danica Patrick and various NFL cheerleaders, two models with Hawaii ties grace the pages of this year's issue: Tori Praver, who grew up on Kauai, appears for the second year in a row, while Kauai-born Jarah Mariano makes her debut in 2008. Congrats to both ...
FRIDAY'S PICKS: DJ Nocturna partners with the Mercury Bar to present "Imagination and Irregularity," featuring a live performance by San Francisco-based singer and cellist Unwoman. She'll be joined by DJs Du Nord and Nocturna, with an art installation by Kathy Chang, William Linmark and Star-Bulletin page designer Michelle Poppler. Doors open at 9 p.m. ... "Da Remix" is back at the Loft, with DJs Davey Shindig and Matt Ratt spinning a mix of mash-up, '80s, disco punk and electro. Dub Phylum will also perform during this 21-and-over party ... Reggae reigns at Tropics Bar and Lounge at the Ward Farmers Market. Irie Soulz and the Ionz will play, and there is no cover all night for those old enough to drink. Call 392-3692 for more info ...
COMING UP: Oahugrown Clothing and Red Stripe present "The Union" at Pipeline Cafe on Sunday. Ooklah the Moc, Rebel Souljahs, Na Mele Rasta and Guidance will play during this pre-President's Day party; pre-sale tickets are available for $10 at Rasta Headquarters, Pipeline Smoke Shop and at the club ... Tickets are still available for Tuesday's Starting Line concert, also at Pipeline. All Time Low is scheduled to open; all ages welcome ... Keep an eye out for local boy Brian Ching and an influx of professional soccer players next week, as teams arrive for the "Pan-Pacific Soccer Championships" on Feb. 20 and 23. International superstar David Beckham is expected to arrive on Monday, without wife Victoria "Posh Spice" Beckham at his side. She's still on tour with the rest of the Spice Girls ...