Mera Pharmaceuticals narrows loss to $32,586
STORY SUMMARY »
Mera Pharmaceuticals Inc. posted a narrower loss of $32,586 in its fiscal fourth quarter and said that revenue was up 50 percent in its fiscal first quarter ended on Jan. 31.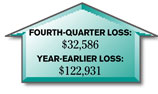 The Kona-based producer of microalgae from nutritional products said cost cutting and a 43.6 percent jump in revenue contributed to the improved fourth quarter after the company lost $122,931 in the year-earlier period. Revenue increased to $132,277 from $92,121 a year ago.
For the year, Mera had a narrower net loss of $322,266 and a 21.6 percent increase in revenue to $470,379.
---
FULL STORY »
Mera Pharmaceuticals Inc. narrowed its fiscal fourth-quarter loss to $32,586 as revenue jumped 43.6 percent and expenses declined due to an ongoing cost-cutting initiative.
The Kona-based maker of nutritional products from microalgae generated nearly all of its revenue in the period ended Oct. 31 from direct sales of its AstaFactor line of products, which continued to build in the fiscal 2008 first quarter that ended on Jan. 31.
"All in all, it was a much better year than the year before," Mera Chief Executive Gregory Kowal said. "The same thing for the first quarter that ended Jan. 31. Revenue was substantially up, over 50 percent, from last year's first quarter. We also have a technical services agreement (with Hawaii-based HR BioPetroleum Inc.), and sales of our AstaFactor line of products has increased."
Kowal said Mera has hired an additional sales person and restructured its pricing break points to make the AstaFactor products more affordable and in line with the competition.
"People were stuck to where they didn't want to buy the product because of the price," Kowal said. "Now the price has come down substantially and become more affordable, and people are now buying the products."
Kowal declined to disclose the amount of the HR BioPetroleum contract, but he called it "substantial" and said it will give a boost to first-quarter revenue.
The agreement, entered into on Nov. 9, grants HRBP access and use of Mera's facilities for 18 months to perform a research project relating to large-scale cultivation and product-
ion of certain microalgae species, and grants HRBP
license rights to a patent and other intellectual property owned by Mera.
In the fiscal fourth quarter, Mera had revenue of $132,277 compared with $92,121 a year ago when the company had a net loss of $122,931, according to a filing yesterday with the Securities and Exchange Commission.
Operating expenses declined 25.1 percent to $130,943 from $174,884.
For the fiscal year, Mera's net loss narrowed 36.6 percent to $322,266 from $508,407. Revenue rose 21.6 percent to $470,379 from $386,757.
Operating expenses declined 13.3 percent to $529,350 from $610,399.
The company, formerly known as Aquasearch Inc., has lost $6 million since emerging from bankruptcy reorganization in September 2002 through Oct. 31, 2007.