Mesa lost $4.2 million in 1st quarter
Mesa Air Group Inc. said yesterday it lost money for the second consecutive quarter, primarily due to costs associated with the reduction of its aircraft fleet and $500,000 spent in legal expenses for interisland carrier go!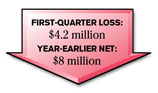 The Phoenix-based carrier, which is separately appealing an $84 million judgment for damages and legal fees in a federal lawsuit filed by rival Hawaiian Airlines, continued to see its cash position deteriorate -- to $188.2 million in the fiscal first quarter from $208.6 million at the end of the fourth quarter and $256.3 million in the year-earlier period. Nearly half of the $188.2 million -- $90 million -- is a bond posted as security to the court during the appeals process.
Mesa posted a net loss of $4.2 million, or 15 cents a share, versus net income of $8 million, or 20 cents a share, a year earlier. A significant part of the loss was attributed to $3.7 million in costs due to the return of aircraft to lessors.
The airline currently operates 183 aircraft compared with 201 a year ago.
Revenue slipped 2.1 per- cent to $326.6 million from $333.5 million.
Mesa didn't break out its latest quarterly loss for go!, but as of Sept. 30 it was nearly $20 million for its first 16 months of operation.
"We believe there is a long-term opportunity and a future for a low-cost carrier in Hawaii," said Jonathan Ornstein, chairman and chief executive for Mesa. "We believe that we have the lowest cost structure and can offer the best product. Under most circumstances, that's a winning combination."
Aviation industry analyst Robert Mann said he has never expected go! to remain in Hawaii long term.
"I have always thought the go! escapade to be a temporary home for aircraft bound for (Mesa's) China venture," said Mann, president of Port Washington, N.Y.-based R.W. Mann & Co. "The degree to which (the China venture) has started slowly has meant more exposure to the interisland market."
Ornstein said he's committed to the Hawaii market, but added that rivals Hawaiian Airlines and Aloha Airlines have been "tough competitors, and we expect nothing less."
He said go! will be making seasonal adjustments to its capacity by adding more flights.
Overall, Ornstein said he was "disappointed" with the results of the quarter for the entire company.
"We are confident in our plans, however, to shrink our less-profitable 50-seat fleet and grow with our larger, more profitable regional jets," Ornstein said. "We made strides in this quarter in both initiatives."
Ornstein also said Mesa is seeking to sell $100 million it has in spare parts and is in negotiations with five different parties. Ornstein said the parts could fetch as much as 50 cents on the dollar.
Mesa is coming off a fiscal year in which it lost $81.6 million, including a loss of $68.2 million in the fourth quarter that ended Sept. 30. That quarter included an $86.9 million pre-tax charge due to the Hawaiian ruling.