---
FAST FACTS HAWAII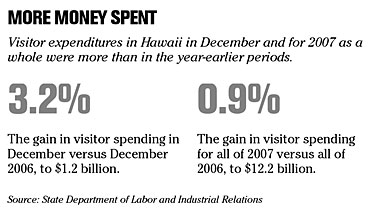 ---
Hawaiian's load factor slips
Hawaiian Airlines
filled a slightly lower percentage of seats in January than it did a year ago as the number of available seats increased.
The carrier had a load factor of 83.1 percent, down 0.9 percentage points from 84 percent in January 2007. The number of passengers traveling systemwide, however, rose 3.8 percent to 567,160 from 546,164.
Available seat miles -- one seat transported one mile -- increased 5.8 percent to 784.7 million from 741.7 million because Hawaiian had its Maui-San Diego service in place for the entire month. The carrier suspended the service for 66 days early last year because of delays in obtaining aircraft.
The airline does not break out figures for its interisland and trans-Pacific routes.
Office Depot opens in Waipahu
Office Depot
celebrated the opening of its first store in Waipahu yesterday.
The 20,400-square-foot store, Office Depot's fourth on Oahu, is at Waipahu Town Center at 94-050 Farrington Highway. It has about 20 full- and part-time employees. Other Office Depots are at Ward, Dillingham and Aiea.
As part of the ceremony, the Office Depot Foundation offered $500 in contributions as well as children's backpacks to three nonprofits -- the Sariling Gawa Youth Council, Child and Family Service and The Hawaii Foodbank.
BRIEF CASE
EXODUS:
About a quarter of General Motors Corp.'s hourly work force represented by the United Auto Workers -- 15,000 to 20,000 workers -- could leave the company under the round of buyout and early retirement offers, the union estimated yesterday.
PREMIUM BREW: Starbucks Corp. is experimenting with a $2.50 cup of coffee that would add a new, premium product to help fight the first drop in U.S. customer visits in its 37-year history.
AWARDS/CERTIFICATIONS
» The Rehabilitation Hospital of the Pacific has announced
Tracy L. Sawada
of the Kailua-Kona REHAB clinic and
Judith Garello
of the Kihei REHAB clinic as certified hand therapists. The certification recognizes an occupational or physical therapist who has a minimum of five years clinical experience including 4,000 hours in direct practice of hand therapy, and has passed a test of advanced clinical skills ad theory in upper quarter rehabilitation.
» Coldwell Banker Pacific Properties has designated Philip McCaffray of its Waikiki office as a previews specialist. He has served the company since 2004 and has also served at Coldwell Banker Commercial in Seattle.
BOARD ELECTIONS
» The Honolulu chapter of the American Institute of Architects has elected its directors for 2008. They are
Sidney C.L. Char
, president;
Jeffrey Nishi
, vice president and president-elect;
William Brizee
, secretary; and
Stanford Lee
, treasurer.
At-large directors include David Akinaka, Joy Davidson, Kendall Ellingwood III, Terry McFarland, Linda Miki, Troy Miyasato, Karen Sakamoto-Sato and Shaun Ushijima.
Terrance Cisco continues as Hawaii island section director and Michael Harvey has been elected as associate.
---
BUSINESS PULSE