Volcanic gas crimps Crater Rim Drive
Kilauea's sulfur dioxide gas intensifies
STORY SUMMARY »
HILO » Dangerously high levels of sulfur dioxide gas in a small but popular area of Hawaii Volcanoes National Park have officials warning visitors to stay in their cars with their air conditioner on re-circulation and to just drive through that area.
The main area affected is a 5-mile stretch of Crater Rim Drive on the downwind, south side of Kilauea caldera. That means no stopping at a popular parking area at the beginning of a short path to Halemaumau Crater overlook.
"Area closed due to dangerous volcanic gas. Stay in your car!" yellow-and-black warning signs say.
The greatest danger is to babies and children, pregnant women and people with asthma or heart conditions, said spokeswoman Mardie Lane.
---
FULL STORY »
HILO » The skies are blue in Hawaii Volcanoes National Park, but if you are standing downwind from Kilauea Volcano, breathing the air could be a lot more hazardous than normal.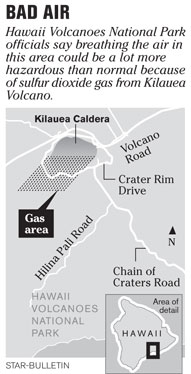 On Monday, sulfur dioxide gas output from the volcano peaked at 1,000 metric tons per day, the second-highest level recorded since measurements began at Kilauea's summit in 1979, the Hawaiian Volcano Observatory said. The highest was one day during the eruption of April 1982, when 1,375 metric tons were measured.
Normal sulfur dioxide output would be 150 to 200 metric tons per day.
Those numbers translate to as much as 10 parts per million in limited areas, the observatory said.
That is high enough to trigger Hawaii Volcanoes National Park's "red" warning level, spokeswoman Mardie Lane said.
It is the kind of level that can be a danger to babies and children, pregnant women and people with asthma and heart conditions, she said. The worst complaints so far have been two people who said last week that they had some difficulty breathing, Lane said.
In contact with water, such as in the lungs, sulfur dioxide can turn into sulfuric acid.
The sulfur dioxide level had been elevated through January, but as levels increased, the park went to work over the weekend, creating and posting new yellow-and-black "Visitor Alert" signs.
The area of the danger was rather limited, a stretch of four to five miles on the south side of Kilauea's caldera, where people often park and walk to the overlook into Halemaumau Crater.
The parking lot there is closed with red cones, and people are obeying the restriction, advised at the park entry station several miles away, Lane said.
Visitors can still drive the whole loop of Crater Rim Drive, but they are warned to put their car air conditioners on "recirculate" when driving through the Halemaumau area. Otherwise, air conditioners will be sucking fumes into the car, she said.
Upwind areas not affected are the park headquarters, Volcano House and Jaggar Museum, as well as outlying areas such as Chain of Craters Road and the Kahuku section of the park.
Why the sulfur dioxide is elevated is unclear. In 1982 it was associated with a summit eruption, but there is no sign of that now, said observatory geologist Matt Patrick.
In fact, instead of puffing up for an eruption, the summit is sagging slightly, said observatory gas scientist Jeff Sutton.
Fracturing of shallow rock layers, either connected with recent rain or with continuing underground magma movement, is possible, Sutton said.