---
FAST FACTS HAWAII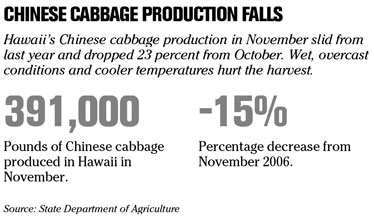 ---
Whole Foods Kahala delayed
Whole Foods Market
has pushed back the opening date of its first Hawaii store.
Ron Yoda, manager of Kahala Mall, said yesterday that because of delays in obtaining the necessary permits, the projected opening date for Whole Foods is now between July and September. The retailer had said last year that it hoped to open the Kahala store this spring.
The Texas-based retailer announced at the beginning of this year that it would lease additional space made available by the departure of two tenants -- the Patisserie and I Love Country Cafe -- for a total of 28,670 square feet.
Besides the Kahala Mall location, Whole Foods also expects to open its flagship store at the Ward Village Shops complext in Kakaako in January, and has also announced plans for stores in Kailua and on Maui.
HELCO names new president
Jay Ignacio, who has worked for Hawaii Electric Light Co. since 1990, has been appointed president of the Big Island utility.
Ignacio, who is now manager of HELCO's transmission and distribution, will take over the top spot on March 10 upon the retirement of longtime president Warren Lee, who has been with the parent company, Hawaiian Electric Co., and its subsidiary for 35 years -- the last 17 as president.
"Under Warren's tenure, HELCO has become among the leading utilities in the nation in the use of renewable energy, including geothermal, wind and hydro power, with plans for even more projects ahead," HECO President Mike May said. "In 2007, over 30 percent of the Big Island's electric energy needs came from clean renewable sources."
Ignacio, a Big Island native who attended Hilo High School and the University of Hawaii, also has worked at HELCO as superintendent of the Hilo construction and maintenance division as well as an electrical engineer.
Brief Case
OUTAGE EXPLAINED:
The company behind BlackBerry smart phones said Monday's three-hour outage was caused by an upgrade designed to boost capacity.
EXXON STIFFED: Venezuela has stopped selling crude to Exxon Mobil Corp. in "an act of reciprocity." Exxon has tried to seize Venezuelan assets in court in a dispute over nationalization of its oil ventures.
New hires / Promotions
» The Moana Surfrider and Sheraton Princess Kaiulani Hotel have announced the following appointments:
Casey Giordano
has been named housekeeping manager. She previously served as guest service agent at the Sheraton Princess Kaiulani.
Valerie Okawa
has been named human resources manager. She worked as human resources coordinator and has also worked at Hyatt Hotels.
Fong Ting "Anna" Lau
has been named housekeeping manager. She served as director of style at the W Honolulu and a housekeeping management trainee and supervisor at the Kahala Hotel and Resort.
Cori Haena
has been named housekeeping manager. She worked as member services supervisor for Unite Here Local 5, assistant housekeeping manager for Aston Executive Centre Hotel and rooms control clerk and housekeeper for the Kahala Resort and Waikiki Beach Marriott Resort.
» Bank of Hawaii has announced the following promotions: Jason Koyanagi has been promoted to vice president of Ala Moana Business Banking from assistant vice president. He joined the bank in 2003 and has also served as business banking manager for the Windward Business Banking region. Clint F. Kuboyama has been promoted to vice president of private client asset management from assistant vice president. He joined the bank in 2006 and has also previously served as an analyst for Sidoti & Company and securities analyst for Value Line Inc. in New York.
» Architects Hawaii has announced the following promotions: David Bylun has been named principal. He will retain his position as director of design and has served the company for five years. Jean-Louis Loveridge has been promoted to senior associate. He specializes in hospitality, high-end residential, retail and commercial projects, and historic preservation. Lisa Rapp has been promoted to senior associate from associate. She has more than 17 years of experience in architecture, planning and design of large-scale resorts, urban hotels and restaurants. Lester Ng has been promoted to senior associate. He has 15 years of experience in Southeast Asia resort hotels and Hawaii high-rise projects. Matt Bickel has been promoted to associate. He joined the firm in 2004 and specializes in existing technology support and new information technology solutions to improve productivity. Marni Murdock has been promoted to associate. She has extensive experience in healthcare and laboratory design, facility planning and complex equipment.


---
BUSINESS PULSE