---
FAST FACTS HAWAII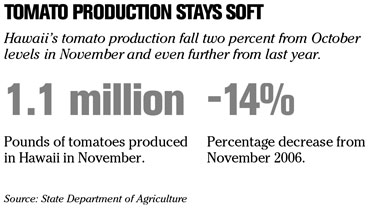 ---
Mesa delays another report
Mesa Air Group Inc.
, the parent company of interisland carrier go!, will delay filing its fiscal first-quarter results, the company said in a filing yesterday with the Securities and Exchange Commission.
Mesa expects to report an undetermined net loss for the quarter, the company's U.S. Securities and Exchange Commission filing said.
The Phoenix-based carrier won't have all needed information to provide an "accurate and full report" for the quarter ended Dec. 31 without unreasonable effort or expense, Mesa said. The airline also was late filing results for its year ended in September.
The airline twice delayed filing its fourth-quarter results, saying it was reviewing certain estimates and reserves. The company said last month that it may be delisted by the Nasdaq Stock Market.
Brief Case
PLAYING WELL:
Hasbro Inc. reported a hefty 24 percent rise in its fourth-quarter profit yesterday. The toymaker said its profit rose to $133.7 million in the three months ended Dec. 30. Sales climbed to $1.3 billion -- driven by brands like Transformers, Littlest Pet Shop and Star Wars -- from $1.1 billion a year earlier.
---
BUSINESS PULSE