---
FAST FACTS HAWAII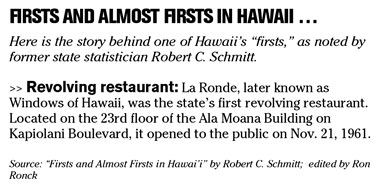 ---
NATION
Fidelity gave away $1.7B in 2007
Surpassing the billion-dollar mark in annual charitable donations, the philanthropic arm of
Fidelity Investments
gave away $1.17 billion last year, the largest amount in its history and a 24 percent increase over 2006.
The spike in donations marked the third consecutive year of record giving at the Fidelity Charitable Gift Fund, which enables individual donors to set up accounts that function as their own personal foundations.
Fidelity attributed the growth in donations largely to a reduction in the minimum contribution required to set up a so-called giving account.
Donors can now create an account with as little as $5,000, down from $10,000, and decide which nonprofit causes should receive their tax-deductible gifts. More than 6,700 giving accounts were created last year, up 44 percent from the previous year.
Robust giving was also due to strong market performance, new investment choices that helped fatten donor accounts, and new ways to support international causes, according to Fidelity.
In addition, a redesigned Web site helped make online giving easier, resulting in another record: more than 72 percent of last year's donations were transacted via the Internet.
"On all fronts, 2007 was an exceptional year for the gift fund," said Sarah Libbey, interim president of the Fidelity Charitable Gift Fund, the country's fourth-largest public charity, in a statement.
Restricting private behavior risky
Sure, employers can require drug testing and criminal background checks to monitor off-duty activities they deem detrimental to an employee's job.
But what about behaviors that create health risks, like smoking cigarettes or having high cholesterol?
Susan Lessack, a partner at Pepper Hamilton law firm, said litigation is increasingly being brought against companies for "lifestyle" regulations, which target smokers, overweight individuals -- even extreme sports enthusiasts.
"Employers are paying attention to high risk activities because it affects health insurance claims and costs," Lessack said. "While bans on smoking and other activities are becoming a trend, they are usually violating state privacy statutes."
The Americans with Disabilities Act protects employees from discrimination for physical impairments, which some have argued can include obesity and addiction to nicotine.
Also, if an employer is not consistent -- for example, declines to hire a man who smokes but hires a woman who does -- they would be liable for discrimination on another protected basis, Lessack said.
Rebate money already spent
As Congress and the White House continued to wrangle the specifics of the economic stimulus plan, many Americans said they are already planning how to spend the rebate checks coming to many U.S. households.
Those who are expecting the rebates, that is.
While 9 percent of those surveyed in a recent poll said they didn't think they would wind up with any cash, 36 percent -- the largest group -- were already planning to use their rebates to pay down debt. Another 27 percent said they would spend the cash, and 25 percent said they planned to save or invest the windfall.
Most who planned to save or invest -- 47 percent -- said they would put their money in a savings account. But men were more likely than women to invest the money in stocks and money market accounts, rather than save the rebate, said the poll.
And 16 percent of those polled may be getting an unexpected surprise in the mail. They said they weren't even aware of rebate checks being part of an economic stimulus plan.
The online poll of 1,500 American adults was conducted by e-Rewards Market Research on behalf of financial services company American Century Investments on Jan. 28.
---
BUSINESS PULSE