---
FAST FACTS HAWAII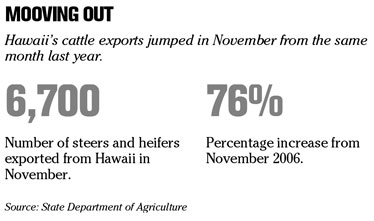 ---
NATION
Restaurant abuse suit revived
NEW YORK » A federal appeals court reinstated the lawsuit yesterday of a legally blind woman who says she was mocked and mistreated by workers at fast-food restaurants, including employees at one who directed her to a men's restroom, then laughed at her humiliation.
The 2nd U.S. Circuit Court of Appeals said Alice Camarillo of Catskill is free to pursue her claims after they were dismissed by a lower court judge in Albany, N.Y., on the grounds that she suffered no harm because she was always permitted to eat at the restaurants.
Camarillo sued Burger King, McDonald's and Taco Bell restaurants under the American with Disabilities Act of 1990.
Lawyers for the companies declined comment or did not return telephone messages for comment.
Dell drops most AMD machines
DALLAS »
Dell Inc.
has stopped selling many computers with processors from
Advanced Micro Devices Inc.
on its Web site, although it will continue selling some through retailers.
The news was a setback for AMD, which wooed Dell for years before breaking the computer maker's exclusive supplier relationship with Intel Corp. in 2006.
Intel still made the processors used in most computers sold on Dell.com, but AMD raised its profile in the chip field by being inside some Dell machines.
Dell.com will continue to offer desktop and notebook computers and servers with AMD processors for business customers, and a single consumer-oriented desktop model with an AMD processor.
Wine grape harvest stabilizes
BERKELEY, Calif. » The California wine harvest came in at normal levels for a second year in a row in 2007, and brokers say the industry is heading back into balance after the curve thrown by 2005's bumper crop.
Preliminary figures released by state agriculture officials yesterday showed the overall grape crop, including table grapes and raisins, totaled nearly 3.7 million tons in 2007, up 5 percent from the year before. For wine grapes, the increase was just 3 percent.
The 2007 total is "probably right where we need to be," said John Ciatti, of San Rafael-based Ciatti Company Wine & Grape Brokers. "It feels much better out there."
WORLD
No deals expected at G-7 meet
TOKYO » Finance ministers and central bank chiefs from the world's seven richest nations meet today in Tokyo to tackle a challenging agenda, including market turmoil and the risks of a global slowdown.
But senior ministers from France, Japan and Britain threw cold water on hopes that this weekend's meeting will produce any sweeping policy agreements to remedy market instability.
After talking with U.S. Treasury Secretary Henry Paulson ahead of the Group of Seven meeting, French Finance Minister Christine Lagarde told reporters Paulson made clear the United States had not called for others' stimulus packages.
Alcatel-Lucent sees 2008 worries
PARIS » Telecommunication equipment titan Alcatel-Lucent sees global economic woes causing it uncertainty in 2008 after the newly merged company survived a choppy 2007, reporting a fourth-quarter loss Friday and scrapping its dividend for last year.
The Franco-American company had some good news, however: Sales rose, and it swung to an operating profit in the fourth quarter.
Analysts said the results were slightly better than expected and that the company's grim outlook reflects the difficult market overall.
---
BUSINESS PULSE