Pro Bowl bringing world-class parties to Honolulu
THE PRO BOWL is back in town, which means Honolulu nightclubs should be packed this weekend with party people visiting from the mainland.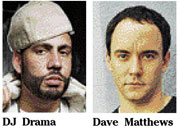 Besides bringing fans, the NFL all-star game also draws a strong compliment of stars and entertainers along with the players and their families. Jessica Simpson was spotted alongside Tony Romo when he arrived earlier this week, and DJ Quik was scheduled to perform alongside Fiji, Natural Vibrations and J Boog at Pipeline Cafe on Thursday after rumors of an appearance by Sean Kingston fell through.
"You're gonna see a smile on my face because I'm so excited," said DJ Drama, who will headline the third annual "Pro Jam" at Pipeline with television personality Rocsi. "Hip-hop is global, man ... it's the biggest export from this country."
Drama is back on top a little more than a year after being arrested for doing something he's always done: distribute mixtapes. Last month, he even released a full-length album version of his hit "Gangsta Grillz" mixtape series.
"I've successfully sold 140,000 records in the last two months," Drama said. "Even though the climate in the record business has completely changed ... I can say I'm kinda proud of that" ...
MORE PARTIES: Terrell Owens and his Dallas Cowboy teammates will party at Aaron's on Friday, with a meet-and-greet session scheduled from 9 to 10 p.m. ... Local hip-hop represents at the O Lounge, with Krystilez and Emirc set to open for the Three 6 Mafia on Saturday. A stage and special VIP area will be set up outside for this one ... Pipeline is pushing hard this weekend, with four straight days of quality events. Along with DJs Quik and Drama, the club hosts Lil' Jon on Friday and Hurricane Chris on Sunday ...
THE SPOT formerly known as Club Pauahi is back, with familiar faces from Clubland stepping into regular Friday gigs at the downtown bar.
"Art School" debuted last week during first Friday at what is now called the Mall Cafe. "Choose 80's" will feature a mix of everything from old school pop to electro music during the rest of the month, according to promoter Joe Agogo.
Former Pink Cadillac resident DJ Dallas will be joined by DJs Shadow Fax and Dougie this week; doors open at 9 p.m. for the 18-and-over crowd. And in case you were wondering, the "Choose 80's" name does have a bit of hidden meaning.
"It's from the T-shirt slogan 'Choose Life' (worn by George Michael in Wham!) that Katharine Hamnett directed towards drug abuse and suicide," Agogo said. "So in our case, if you can't choose to not abuse or are contemplating suicide and are still in the lobby of life ... at least for now, choose 80's night!" ...
CONCERT/CLUB NEWS: Word came earlier this week that Dave Matthews will be the special guest at Jack Johnson's annual "Kokua Festival" on April 19 and 20 at the Waikiki Shell. He'll be joined by Tim Reynolds, with opening sets by Hawaii-born Mason Jennings and local artists Paula Fuga and Go Jimmy Go. Tickets go on sale Feb. 16, but listen to Star 101.9 for a shot at special presale opportunities ... Flash Hansen and Matty Hazelgrove will throw simultaneous parties on two islands starting this weekend. In addition to "Release" on Kauai every Friday, the duo will host "The Supper Club" at the new Doraku Sushi every second and fourth Friday. The vibe will be "heavy on ambiance, (with) good music and great food for sophisticated adults that just want to kick back and enjoy themselves in a decidedly un-clubby environment" ... The Living Room has renamed its Saturday weekly. "Swagger" features an open bar from 10 to 11 p.m. and DJs Jami, Zack Morse, Jaytee and Zane in two rooms ...
CONGRATS TO the winners of this year's Hawaii Music Awards, announced earlier this week.
Nearly 95,000 votes were cast online by people from more than 100 different countries, according to organizer Johnny Kai. Winners will be honored March 15 at the Willows.
Despite being a popularity contest, I'm still happy to see artists like Mighty J, Abe Lagrimas Jr. and 82 Fifty get some shine. Check my blog for a complete list of winners ...