---
FAST FACTS HAWAII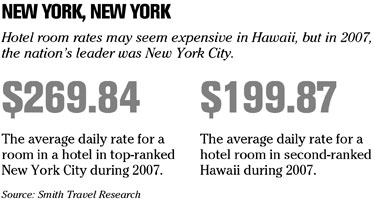 ---
Public radio expands reach
Hawaii Public Radio has expanded the reach of KKUA-FM 90.7 to Kona, with the relocation of its transmitter to Ulupalakua Ranch on Maui.
The relocation was triggered by plans for a new radiotelescope atop Haleakala, which requires that all broadcasters at a long-standing antenna farm to vacate.
The move allows HPR's classical music and fine arts programming to reach an additional 26,000 Maui and West Hawaii residents, according to broadcast engineers.
KKUA airs the same programs as KHPR-FM 88.1 in Honolulu, KANO-FM 91.1 in Hilo and the KANO translator in Waimea at 94.7.
Brief Case
FRUGALITY PAYS:
Japan Airlines reported a profit in the October-December quarter, reversing a loss from the previous year, underlining the success of its moves to cut personnel costs and shift to fuel-efficient aircraft. JAL left its forecast through March unchanged.
EXPENSIVE PRECRIPTION: In one of the biggest U.S. health care fraud settlements ever, Merck & Co. will pay $671 million to settle claims it overcharged the government for popular drugs and bribed doctors to prescribe its drugs. Merck did not admit wrongdoing.
New hires / Promotions
» Meridian Group Hawaii has named
Chevy Tharp
regional vice president of its brokerage division and
Jennifer Sinclair
its commercial and business loans specialist.
Tharp and Sinclair have served on the board of the company since July 2007.
» TeamPraxis has announced the following new hires:
Ramona Hinck as chief financial officer. Previous jobs include assistant operations and financial controller at Kamehameha Schools, senior tax consultant at PricewaterhouseCoopers, and senior tax specialist at KPMG International.
Teri Ng as controller. Her previous jobs include assistant controller for Kamehameha Schools and Cheap Tickets, and controller at Hawaiian Cement.
Susan Young as clinical research and development analyst. She previously was director of provider support and clinical operations manager at Healthways.
» Bennet Group Strategic Communications announced the following promotions:
Char Chang to senior account executive. She previously served at Milici Valenti Ng Pack. And Jill Bona to senior account executive. She previously was a morning show producer for KHNL News 8.
» Mobi PCS has announced the following appointments:
Allan Muhlack as Maui sales manager. He will oversee the Queen Kaahumanu Shopping Center location in Kahului. He previously was a store manager for Gamestop in Lahaina.
Lance Takai as Big Island sales manager. He will oversee the Prince Kuhio Plaza location in Hilo and the Kona Coast Shopping Center kiosk. He previously served as receiving team manager at Macy's.
» The Hawaii Medical Service Association has announced the following promotions:
Bev Luney from manager of corporate accounts and education to director of account management and sales
John A. Hamakawa from senior account executive to manager of corporate accounts.
Rodney K.S. Tam from senior account executive to Hawaii Employer-Union Health Benefits Trust Fund program manager.
John L. Jacobs from vice president of account management and sales at HMSA to president of Benefit Services of Hawaii Inc.
Douglas Auten from Benefit Services of Hawaii Inc. director of sales and operations to Benefit Services of Hawaii Inc. vice president.
» Starwood Hotels and Resorts Waikiki has announced the following promotions:
Vickie Omura to director of sales. She has served Sheraton as food and beverage secretary, sales account executive, account manager and senior account manager since 1986.
Courtney Watson to account director. She previously served as sales manager-Waikiki leisure sales since 2006.
Debbie Dobarro to sales manager-Asia sales. She previously served as coordinator for Asia sales.
Karen Nishizawa to security manager for Sheraton Waikiki and The Royal Hawaiian. She previously served as risk manager, reservations supervisor and various positions within Sheraton since 1981.
---
BUSINESS PULSE