Kapahulu residents fearful of parking loss
Some Kapahulu store owners oppose the proposed auction of a nearby 60-stall parking lot by the state, fearing the loss of business and places for employees and patrons to park.
"As a policymaker, I support trying to maximize revenues from state lands, but not when it causes harm to the community," said state Sen. Les Ihara Jr., who represents the area. "The government is supposed to help, not hurt the community."
The owners of Island Triathlon and Bike and of Uncle Bo's plan to testify against the proposal at a 9 a.m. hearing tomorrow before the state Board of Land and Natural Resources. At issue is a 65-year commercial lease on the half-acre site at 548 Kapahulu Ave.
Ho Suk Lee, co-owner of Uncle Bo's, directly across from the lot, said its loss would cause a ripple effect, with employees and patrons of businesses looking for parking on residential streets.
And those streets are already jammed with vehicles.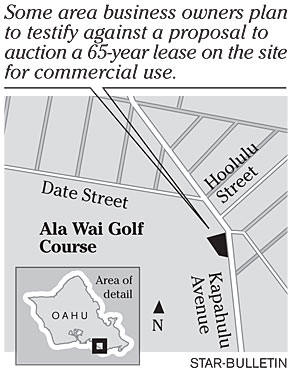 Area homes were built with single-car garages, forcing residents with more than one car to park on the streets, Ihara (D, Kaimuki-Palolo) said.
A community survey showed 240 vehicles belonging to residents compete for 119 on-street parking spaces in the area. Many residents have to park a block or two away from their homes, Ihara said.
Ken Chang, president of the Kapahulu Business & Community Association, said he hopes the state will limit development of the site to either a municipal or commercial parking lot.
"Right now there are no properties that are vacant in the Kapahulu area that could be used for this purpose," Chang said.
More than 1,000 signatures have been collected to keep the parking lot.
But state land officials said in a written statement that ever since they announced plans to lease the property in 2003, they have not received any interest from an agency or entity to construct or operate a public parking lot at the site.
In July the city approved a zone change for the site to commercial use from residential use.
Revenues from the proposed lease will help fund the department's management of the state's public lands, natural resources and public programs.
"The property currently does not generate any state revenues," officials said.