Ward envisioned as 'urban village'
Owner General Growth unveils a 20-year plan for the 60-acre area
STORY SUMMARY »
The owner of the 60-acre Ward area of Kakaako has unveiled redevelopment plans that call for a central mauka-makai plaza lined with shops, restaurants, offices and condominiums.
There would be more homes, ranging from affordable to luxury, view corridors looking toward the ocean, more transit options and a tree-lined Auahi Street connecting all of it.
General Growth Properties presented the preliminary "vision" as part of a 20-year master plan for the area to the Hawaii Community Development Authority yesterday.
Community Open House
When: 2 to 7 p.m. March 11
Where: Kewalo Conference Room Ward Warehouse
Web site: www.WardNeighborhood.com

Source: General Growth Properties
If the Chicago-based developer moves forward as planned, the central plaza would cut through the existing Farmers Market and part of Ward Warehouse.
Farmers Market, home to some tenants who have done business there for decades, is slated for demolition, according to General Growth.
Current tenants in the area might or might not become part of the overall master plan as it evolves, the company said yesterday.
General Growth will hold a community open house on March 11 at Ward Warehouse regarding the preliminary plans.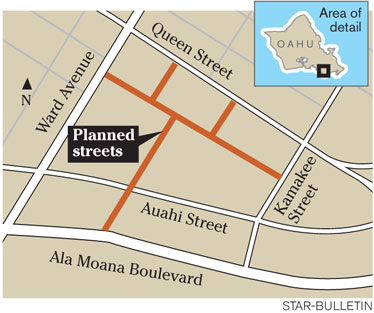 ---
FULL STORY »
General Growth Properties' vision for the Ward area of Kakaako over the next 20 years includes a central plaza that would be the heart of the neighborhood, along with more homes, and view corridors opening toward the ocean.
In preliminary plans sketched out yesterday, a central plaza would cut mauka-makai through the existing Farmers Market and Ward Warehouse. The tree-lined plaza -- between Ward Avenue and Kamakee Street -- would feature a mix of shops and restaurants, along with offices and condos up above, all the way down to Kewalo Basin.
Auahi Street would be reborn as a main boulevard, offering the state's flagship Whole Foods Market as well as shops, dining patios, entertainment, wider sidewalks and a canopy of trees.
More housing would also be added as part of the "urban village" mix, according to General Growth, which presented its master plan to the Hawaii Community Development Authority yesterday.
PLANS PRELIMINARY
All of this would be Phase I of the overall master plan, which would begin taking place about three years from now, although the precise details have yet to be ironed out, according to Jan Yokota, General Growth's vice president of development.
A more detailed and formal plan will be presented to the HCDA in April.
"Today, Ward properties is a collection of individual pieces that don't coalesce," said Thomas J. D'Alesandro IV, senior vice president of General Growth. "It's fully functioning, but it's just not functioning as one place. ... We think it can be a lot more than it is today."
Ward is currently home to an estimated 300 businesses but has the potential for at least 100 more, according to D'Alesandro.
General Growth also envisions more housing options -- from the affordable to the upscale, which would include more luxury high-rises like the Hokua and Koolani.
This "urban village" would be a gathering place for a diverse mix of residents and visitors, who could shop or dine just steps from their homes, offices or public transit.
Two additional plazas would also flank the Central Plaza, on the Diamond Head and Ewa sides. Together the plazas would total more than 5 acres.
General Growth presented what it considers the highest and best use of the 60 acres it owns in Kakaako. The developer, however, has no estimated construction costs for the master plan at this time.
"Over time, I think we'll create substantial value," D'Alesandro said.
'SMART GROWTH'
The Chicago-based developer's goal is to take the "smart growth" approach to the Ward neighborhood, which encompasses four blocks on 60 acres.
General Growth wants to create more housing and jobs per acre while also reducing energy consumption and auto dependency, with a transit station on Queen Street included as part of the overall vision.
The plan echoes the same "Live, work, play" philosophy as the HCDA.
General Growth, which also owns Ala Moana Center, has developed other mixed-use master plans in Summerlin, Nev., and the Woodlands in Texas.
Currently, Ward Centers is home to several anchors, including the Ward 16 Theatre, Sports Authority, Nordstrom Rack and Pier 1 Imports.
More than 100 specialty boutiques and restaurants fill Ward Centre, Ward Warehouse and the new Ward Gateway Center.
Ward Gateway opened in late 2005, becoming home to Starbucks and Jamba Juice, which were displaced when construction began at the former Ward Village Shops.
Ward Village Shops will be home to a 67,000-square-foot Whole Foods Market, which is now expected to open in January, along with a new parking garage.
Original plans to open Whole Foods this year were delayed to the discovery of dozens of iwi, native Hawaiian remains, during construction. Plans for a 17-story residential tower on the site are now uncertain.
TENANTS UNCERTAIN
The 103,000-square-foot Farmers Market, home to anchors Marukai, Haili's Hawaiian Foods, and Tropic Fish and Vegetables, is also slated for demolition.
General Growth said some tenants might remain at Ward, but there is no guarantee that everyone there today will become part of its future as the master plan evolves.
D'Alesandro acknowledged that some businesses will close, but others could grow along with General Growth over the 20-year period.
Most of the existing, older buildings, however, are expected to come down in incremental phases.
Lorraine Haili Alo, who runs the family-run Haili's Hawaiian Foods, said she is not sure where the business will go, especially since it has been there more than 60 years.
She said the family is looking for a new location, knowing that General Growth has other plans for the building. However, it is not easy.
A loyal customer base, including regulars who bring their grandchildren, have been buying their poke, poi and plate lunches from Haili's for decades -- from as far as Waianae and Hawaii Kai.
"We're looking for different locations, dependent on what General Growth has in their plans," Alo said. "We know the area we're in is now high rent, luxury rent."
Alo said the rent the family currently pays is still affordable, but her four-year lease is due to expire soon.
"That's progress," she said.
Ward makeover
General Growth Properties has unveiled tentative plans to redevelop its 60-acre holdings in the Ward area of Kakaako over the next 20 years, including:

» Creation of a 3.25-acre central plaza, stretching mauka to makai through the current Farmers Market and part of Ward Warehouse.
» Auahi Street would become a main boulevard lined with trees, open seating areas, outdoor art.
» Two additional public plazas, along Ward Avenue and Kamakee Street.
» More housing, ranging from affordable to upscale.
» Underground utilities, lush landscaping, lampposts and benches.
» 100-plus more businesses.
» A variety of transportation options, including a transit station on Queen Street and bike paths.