---
FAST FACTS HAWAII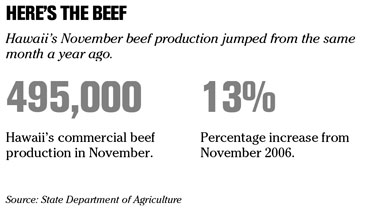 ---
Brief case
BRIGHT PICTURE:
Sony Corp., the world's second-largest consumer electronics maker, gained the top position for the first time for liquid-crystal-display television shipments in the North American market. Sony beat out rival Samsung Electronics Co., according to market researcher DisplaySearch.
UNPLUGGED: Cisco Systems Inc.'s second-quarter profit matched Wall Street's subdued expectations, but its guidance of 10 percent sales growth in the third fiscal quarter fell below the 15 percent projection by Wall Street analysts.
STUNG: Electronic Data Systems Corp.'s quarterly profit fell 13 percent, hurt by the loss of a key customer, Verizon Communications Inc. The operator of corporate computer systems gave a cautious outlook for early 2008.
New hires / promotions
» Energy Industries has hired
John Nakamura
as operations manager. He previously served in management positions at California-based companies American Pipe Lining, International Consulting & Marketing Group, and Sanki Corp. He has more than 20 years experience in sales, operations and project management.
» Kona Village has named Rodger MacDonald as director of sales and marketing. He will serve as the on-site contact for travel agents and meeting planners and will oversee Web-site content, advertising and packages and resort promotions, and strategic development of the leisure and meeting markets. He previously worked at Ojai Valley Inn and has also was director of sales and marketing for luxury resort properties on Kauai and the Big Island.
» Group 70 International has named Paul Bierman-Lytle as chief sustainability officer. He previously served as president and chief executive officer of the Sustainable Environment Associates Corp. for 11 years, vice president of CH2M Hill's international sustainable development division, and president and founder of the Master's Corp. Over the last 29 years he has served as chief architect and planner of more than 150 sustainable development projects.
» King & Neel has named Tim Matthews as vice president and director of safety. He will be responsible for risk control and assessments for more than 130 clients. He previously was health, safety and environmental manager for Halliburton in Baghdad, Iraq, and director of health and safety of RCI Construction Group.
» Ruth's Chris Steak House in Waikiki has named Jon Kobashigawa as a manager. He previously was dining room manager at Sam Choy's Diamond Head restaurant. He has also previously was a finfish research technician and finfish research assistant at the Oceanic Institute in Waimanalo, from 1999 to 2006.
» Morgan Stanley has promoted Jodi Lam to vice president and wealth advisor in its Global Wealth Management Group's Honolulu office. She has been with the company for nine years.
» Hawaii Community Federal Credit Union has promoted Kenneth Shaw to youth services coordinator from member service specialist. He will be responsible for development of new and existing student credit unions on Hawaii and formulating a strong youth literacy plan. He joined the credit union in 2006 and has also served at credit unions in California.
» Hawaiian Host has hired Katherine Katsuda as human resources assistant. She will provide administrative support to the human resources director, update and maintain employee records, and assist in the hiring process and handling risk management materials. She previously served as a cashier and clerk at the Hanauma Bay Nature Preserve for four years and as an office assistant for the University of Hawaii Research Corporation.
---
BUSINESS PULSE