---
FAST FACTS HAWAII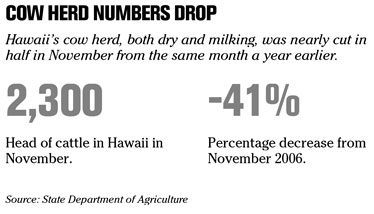 ---
Minimum-wage bill advances
Hawaii's minimum wage would gradually increase to $9 per hour under a measure that sailed through its first legislative committee vote yesterday.
If enacted, minimum wage workers in the islands would earn an annual salary before taxes of about $18,720 a year, assuming a 40-hour work week.
Employees would get a 75 cent an hour boost to $8 in July 2009 and reach $9 an hour in 2011, according to the bill passed by the House Labor Committee on a 10-2 vote. It now goes to the House Finance Committee.
Brief case
QUICK DEAL:
Chrysler LLC and struggling parts supplier Plastech Engineered Products Inc. have agreed for Plastech to resume sending parts to the automaker, temporarily halting a financial dispute that had closed four assembly plants.
BAD BET: Las Vegas Sands Corp., the casino company run by billionaire Sheldon Adelson, it posted a fourth-quarter net profit of $39.9 million, or 11 cents a share, down from $113.6 million a year ago.
PROFITABLE NEWS: Improved results from the Fox broadcast network and Fox News Channel lifted second-quarter earnings at Rupert Murdoch's News Corp.
---
BUSINESS PULSE