REVIEW
Quiet Time
Jack Johnson's latest tunes still soothe, but some lyrics venture into darkness
When it comes to Jack Johnson's music, it's the little things that count. That is, if you pay attention. On Johnson's latest album, to be released tomorrow, you can hear him stretch his music a bit in lyrics, instrumentation and song structure. He's even exploring some dark corners that come from his own life and the world at large.
in Stores: Tomorrow
"Sleep Through the Static"
Jack Johnson
(Brushfire / Universal)
And he's successful for the most part, save for an awkward word here and there (e.g., "preconceived," "vicariously" and "archaism," generally not good for lyric flow).
Otherwise, "Sleep Through the Static" is his best album to date.
Despite that, he'll always have detractors who think of him as "the Jimmy Buffett of Gen-Y." That's one memorable diss listed on the music blog Idolator.com after it was announced that Johnson would be a headliner at this year's Coachella festival in Indio, Calif., considered to be indie rock-snob heaven.
Still, the man's fans will stick by him and will love the album's quiet interlude songs. "Hope," "Same Girl" and "While We Wait" are Johnson at his intimate best, his voice a soothing balm.
But adding keyboardist Zach Gill to the rhythmic mix makes the group interplay more interesting. The back-to-back "What You Thought You Need" and "Adrift" start with an insistent drum pattern and acoustic bass, and segue from what sounds like low, white noise from an organ speaker into a rich interplay of guitars.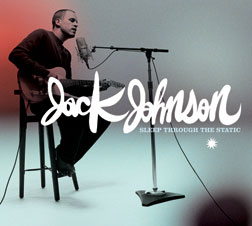 Johnson's taking more chances with his lyrics, as well. The first verse of "Enemy" is downright imagistic. There's a nice turn of phrase -- "building with bent nails" -- in "If I Had Eyes," a song doubtful in tone but still with low-key pop appeal. He links the title of "Monsoon" with "sooner or later" in an ambitious tune that's a highlight of the album.
The album is dedicated to the memory of Johnson's 19-year-old cousin Danny Riley, who died in November of brain cancer. It's partly that young man's spirit that infuses the memorable "Go On," where the push of Johnson's rueful lyrics eases into a hopeful-sounding instrumental coda.
Johnson's profile has been growing since last year, when he played in Sydney as part of the worldwide "Live Earth" concerts. He also sang on "Instant Karma," the John Lennon tribute/Darfur charity album, and on the soundtrack of the imaginative Bob Dylan bio flick "I'm Not There."
Here's hoping this new album and subsequent tour -- his first U.S. shows will be at the Kokua Festival April 19 and 20 -- will prove that Johnson can shoulder the additional hype and, yes, deflect the occasional vitriolic comment.
But if not, as his closing song, "Losing Keys," implies, ain't no big t'ing. And the honesty of Jack Johnson's music won't suffer for it in the long run.