---
FAST FACTS HAWAII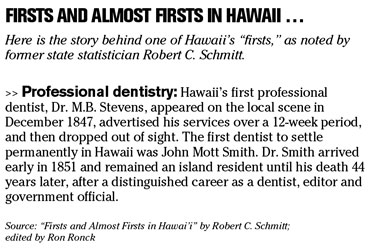 ---
NATION
Recycling at work lags behind
Many of us recycle at home, and proclaim ourselves "green." But the workplace waste keeps piling up.
Out of those who said they recycled in a recent survey, 62 percent recycled at home, but only 49 percent recycled at work. While 87 percent of workers said it was at least somewhat important that their workplace be environmentally-friendly, almost a third of those surveyed said they did not recycle at all.
"I'm not sure it's a difference in the individual employees, but rather in the priorities that the enterprise places on recycling," said Mark Murray, executive director of advocacy group Californians Against Waste. "(Companies) where recycling is the complicated bin that you have to find somewhere on your floor -- those are the places that recycling doesn't do as well."
To encourage employees to reduce waste, companies should upend the usual bin standards:
» Place a recycling container next to every desk, and make the regular garbage can a communal receptacle, he said.
» Printers can also be set so that double-sided copies are the default option to cut down on waste.
» Before things get thrown away -- in the proper container -- reuse them. In the survey, 37 percent of employees said they refilled one plastic water bottle throughout the week.
Harris Interactive Inc. conducted the online study for staffing company Randstad USA throughout Jan. 17-21. The survey polled 2,079 employed U.S. adults.
India and China are very different
The economies of India and China, rising powerhouses both, have opposite but complementary strategies, says Tarun Khanna, author of "Billions of Entrepreneurs: How China and India are Reshaping Their Futures and Yours."
"China and India are flavors of the month," Khanna said.
But multinational corporations that want to invest in the region must understand that China relies on economic directives from the top, while India's open media and stronger financial system boost individual entrepreneurship.
In India, the homegrown Tata Motors Ltd., now a global brand, became the first major automaker to mass-produce a car with a bargain-basement $2,500 price -- in accord with the country's socialist origins. The company is now looking to acquire premium brands from Ford Motor Co., and is preparing an entry for the U.S. market.
While the Tata Group conglomerate has been connected with the Tata family since the 19th century, corporate life in China is mainly government-backed and supported, says Khanna, even as many Chinese companies lack strong international brand-name recognition.
"In China, the government gets involved much more," Khanna said. "The government itself is a very good entrepreneur."
Domino's debuts 'Pizza Tracker'
The next time
Domino's Pizza
tells you a pie is on the way, they might be able to prove it.
Pizza Tracker, available at 3,200 stores in the second- biggest U.S. pizza chain, gives customers an up-to-the-minute view of when their order is processed at the store, put in the oven, placed in a delivery bag and sent out for delivery.
Domino's aims to have it in more than 90 percent of its 5,000 U.S. stores within a few months to compete with Papa John's and Pizza Hut as Internet-savvy customers expect faster delivery.
"We all make an outstanding pizza," Domino's Chief Information Officer Chris McGlothlin said from the company's headquarters in Ann Arbor, Mich. "We like to think, and we believe, we are the masters of service."
The real-time tracking started testing in December, and it's available to customers ordering by phone starting today. Pizza Tracker, for which Domino's said it filed a patent application, is accurate to within 40 seconds, according to McGlothlin.
The monitoring works using data Domino's employees enter into computers tracking the progress of an order, which had been in place already, McGlothlin said. The company then updated the technology to allow customers to track their own orders.
Domino's expects the service to draw the under-30, mostly male crowd that McGlothlin calls the "fast and simples," who spend more time online.
---
BUSINESS PULSE