DRAWN & QUARTERED
Off-kilter worlds collide
'Prickly City' and 'Cul de Sac' debut
STORY SUMMARY »
In our attempts to surprise, frustrate and -- hopefully -- please our readers, we make occasional changes to our comic-strip lineup. Get ready, 'cause here we go again.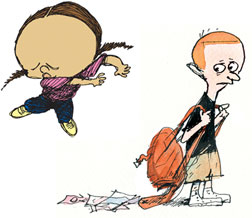 Starting tomorrow we will discontinue the caricature-driven and politically conservative strip "State of the Union." In its place, "Prickly City," the more whimsical but still politically conservative strip by Scott Stantis, expands from Sunday-only to daily publication.
Next, you've seen the last of Mark Pett's "Lucky Cow." Pett is ending his strip to work on other projects.
"The rigors of a daily comic strip require virtually all of my creative energy, and have prevented me from doing much else," Pett said via e-mail. "I've loved doing 'Lucky Cow,' and am pleased that I'm able to stop before burnout seeps in."
To replace "Lucky Cow," we'll be introducing "Cul de Sac," a strip endorsed by none other than Bill Watterson of "Calvin and Hobbes" fame. "(Richard) Thompson has a sharp eye, fun sense of language and a charmingly odd take on the world," Watterson said in a statement. "Best of all, his drawings are wonderful -- something one doesn't often see in cartoons anymore. ... We have a real talent here."
---
FULL STORY »
Cartoonist Richard Thompson's bio mentions that he doesn't stray far from his Arlington, Va., home, where he lives with his wife and two daughters.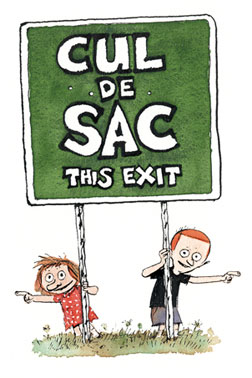 But that doesn't mean his imagination works within such boundaries as well. Thompson -- not to be confused with the guitarist-songwriter of the same name -- has been attracting readers nationwide with his syndicated newspaper comic strip "Cul de Sac," building on an initial base of fans drawn to his work in the Washington Post Sunday magazine, where the strip debuted in 2005.
His scratchy, sketchlike drawings are in the spirit of the work of children -- no surprise, since the main character of the strip is little Alice Otterloop.
But Thompson does bring a welcome adult sense of sophistication and absurdity to his work. "What I'm trying to show with 'Cul de Sac' are the little surrealistic moments in daily life seen from the viewpoint of an irrepressible 4-year-old and an awkward 8-year-old (Alice and her brother Petey, respectively), where no one knows quite what's going on, least of all the adults." Thompson continued, via e-mail, that "someone pointed out to me that all the characters in 'Cul de Sac' are off in their own worlds and the comedy comes from watching the worlds collide."
Those worlds include not only preschool, but the Otterloops' suburban home, on a street that inspired the strip's title.
"The idea of doing the strip came from the magazine editor, Tom Shroder, who'd been my editor for 'Richard's Poor Almanack,'" Thompson said. "He wanted a strip about Washington, D.C., but not about Washington, D.C., the Capitol of the Free World, just about some people who live around here.
"And I came up with a family in the suburbs and named them Otterloop (which is a local joke -- our beltway has an inner loop and an outer loop, and they're forever clogged with traffic jams). And I wanted the strip to have a semidefinite locale that was out of the way, like a little eddy in the city's mighty flow, so a cul-de-sac seemed like a good idea. And an editor told me that 'cul-de-sac' means 'bottom of the bag' in French, and what's funnier than that?"
Not only does Thompson churn out a daily strip, but he said, "freelance illustration is my day job. ... I have a decent stream of steady customers, among them Smithsonian Magazine, the New Yorker, the Atlantic and the Washington Post, for whom I've done freelance work for over 20 years. And for 10 years I've drawn a stand-alone cartoon for the Post's Saturday Style section called 'Richard's Poor Almanack' that's pretty much about anything and everything."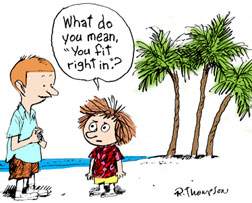 For all of that, Thompson received National Cartoonist Society Magazine and Book and Newspaper Illustration Awards in 1995.
The Star-Bulletin joins "Cul de Sac's" story in progress starting today, and Thompson said the strip should be pretty easy to follow right from the get-go.
"But here's a brief who's-who: The talkative little girl is Alice Otterloop, who attends the Blisshaven Preschool with her friends Beni and Dill. Alice has an older brother named Petey, who's her total opposite. She's an irresistible force and he's an immovable object. Blisshaven Preschool is run by Miss Bliss, who has a huge and unshakable faith in the Potential for Greatness of Children, though actual children kinda unnerve her. And there's a classroom guinea pig named Mr. Danders, who's been in the classroom long enough now that he's clamoring for an honorary doctorate.
"I think some of the first strips you'll be running may involve snow, which I hope some of you may be familiar with, and slush, which is the less enjoyable form of snow. Also, Petey just started oboe lessons, which, as he's been identified as gifted but not talented, are progressing slowly."
When asked if the look of the strip has changed much over the years, Thompson said, "it's probably gotten scratchier and sketchier (I can't help it, most all my drawings come out that way), though I'm proud to report I'm making great strides in grammar and spelling. The characters have changed some -- Alice's hair is shorter, the dad's head looks less like an onion and Petey's gotten slightly weirder. But the family dynamics haven't changed much, and that's what I enjoy writing about."
So what do his wife and daughters think of his line of work?
"They're pretty used to what I do, and having me around the house doing it all the time, though I think they're kinda proud of it. My daughters, who are 9 and 12, are both huge cartoon fans and unstoppable readers, and my wife is my first and best critic always. She's got the sharpest sense of humor of anyone I know, and she was an English major, which may account for my improving spelling and grammar."