Wonders of Hawaii
Natural beauty, cultural sites and man-made marvels compete for space on the short list of things that make the islands special
Fire up the Wayback Machine, Mr. Peabody. It was about a decade ago that the Star-Bulletin considered what "Seven Wonders" would be in the islands. The idea, naturally, was a continuation of what noted traveloguers Herodotus and Callimachus dubbed the "Seven Wonders of the World," way, way, waaay back in pre-Anno Domini days.
Remember? The Great Pyramid of Giza -- the only wonder still standing -- the Hanging Gardens of Babylon, the Statue of Zeus at Olympia, the Temple of Artemis at Ephesus, the Mausoleum of Maussollos, the Colossus of Rhodes and the Lighthouse of Alexandria.
The Star-Bulletin list, after compiling readers' votes, was all-natural: Diamond Head and Hanauma Bay on Oahu, Haleakala on Maui, Kilauea Volcano and Akaka Falls on Hawaii, and Waimea Canyon and Na Pali Coast on Kauai.
A good list, a solid, reassuring list. But times roll on. Could a new wonder or two have been erected in the meantime?
A few months ago, we asked for suggestions from readers and got several hundred responses. Helping us boil them down to a couple dozen possibilities were restoration architect Glenn Mason for man-made structures, and pop-culture collectologist De Soto Brown for historical sites.
Now it's up to you, the voter. Deadline to make your choices is March 1. For details, turn the page.
As for those age-old world wonders, seven new ones were chosen last year via Internet voting. In case you're wondering, they are Chichen Itza in Yucatn, Mexico; Christ the Redeemer statue in Rio de Janeiro, Brazil; the Colosseum in Rome; the Great Wall of China; Machu Picchu in Cuzco, Peru; the stone city of Petra in Jordan; and the Taj Mahal in Agra, India.
Vote for your Seven Wonders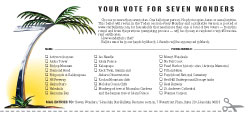 Choose no more than seven sites. One ballot per person. No photocopies, faxes or e-mail entries. This ballot will re-run in the
Today section
every Monday
and a printable version is posted here at
StarBulletin.com
, for households that need more than one. A total of five voters - from this round and from the previous nominating process - will be chosen at random to win $50 restaurant certificates.
How wonderful is that?
Ballots must be in our hands by March 1. Results will be announced in March.