| | |
| --- | --- |
| | Island Mele |
---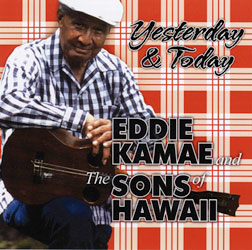 "Yesterday & Today"
Eddie Kamae and the Sons of Hawaii
(Hawaii Sons)
Eddie Kamae made history and shaped the evolution of Hawaiian music several times in the 20th century - as an ukulele virtuoso in the late 1940s, as founder and leader of the Sons of Hawaii in the 1960s and 1970s, and thereafter as a filmmaker who work helped document the Hawaiian music and conversational styles of previous generations. At age 80 Kamae is making history once again. "Yesterday & Today," with the familiar plantation-era palaka (block print) design on the cover, contains the first new recordings Kamae has made as leader of Sons of Hawaii since 1980.
Kamae is the only founding member still alive, so the new recordings introduce a new group: Paul Kim (steel guitar), Ocean Kaowili (guitar), Mike Kaawa (guitar and bass) and Analu Aina (bass). The standout among the six new recordings is "E Ku'u Morning Dew," recorded by the Sons in 1975, but this time with Kamae singing lead.
Kamae pays homage to the Sons of old with six songs culled apparently at random from his archives - "Ka Opae" and "Kanaka Waiolina" are two that old-timers will welcome.
James D. Houston's liner notes essay fails to explain the significance of several songs but it provides much more information than was provided in Kamae's last two anthologies.
---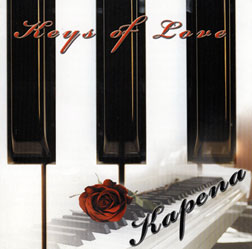 "Keys of Love""Keys of Love"
Kapena
(KDE)
How time flies! It's 24 years since Kelly "Kelly Boy" DeLima and Teimoni "Timo" Tatofi asked Tatofi's older brother, Tivaini "Tiva" Tatofi, to be their bass player in the "Brown Bags to Stardom" competition at Kaimuki High School. It's more than 20 years since the trio was signed by Ken Kahunu Post, recorded a debut album, and helped launch Jawaiian music with a remake of UB40's remake of Neil Diamond's obscure 1968 single, "Red Wine."
The Tatofi brothers retired several years ago and returned to Tonga as they'd always intended, and DeLima has kept the group going as he'd hoped he could. This anthology offers a selective retrospective on the group's work between 1990 and 2000, plus a new version of "Don't Say Goodbye" that features his daughter, Kalena Koo DeLima, on lead vocals.
Longtime fans will applaud the inclusion of "Blue Darling"/"I'll Be Leaving" from 1990. "Shame On Me" opens with a fine demonstration of DeLima's ukulele playing, and "Bring It on Home to Me" reminds us that he and the Tatofi brothers had strong gospel roots as well.
Be advised that this is a collection of love songs, most of them remakes of national chart hits, and that the album seems intended more as a stocking stuffer for Valentine's Day than as documentation of the group's full capabilities. To hear what they can do in addition to being a synth-based pop cover band you'll need to find their version of "Red Wine" on some other album, and then check out "Jesus Got a Hold of My Life"/"I Came to Praise the Lord" on their 1999 gospel album, "The Solid Rock."
---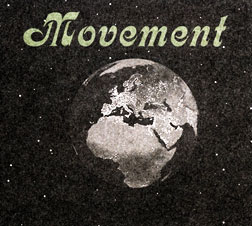 "Movement"
Public Property
(self-release)
Expatriate islanders David Bess and Mireva Minerbi provide the tenuous local link to Iowa-based Public Property. Bess formed the group after he left Hawaii to go to the University of Iowa in 1999, and word is that Minerbi is also a '99 Hawaii grad. There might be people in Iowa who are so out of touch with the cosmopolitan World Music scene that they've never seen Caucasians play any form of Jamaican-style music, but Hawaii residents know better. And so, there's no novelty factor involved in embracing the octet's music here. With Minerbi as one of three female vocalists, PB has a choral sound Jawaiian bands typically lack.
There's more than the same old skank going on here as well. The group makes it a point to avoid remakes. Their originals embrace ska, rock and hip-hop as well as mainstream reggae.
"When a Boy" is a a decisive break with everything else on the album. The three women - Minerbi, Margaret Lawson and Georgette Stern - comment on life, love and male-female relationships with a memorable piece of hip-hop performance poetry.
Bess plays ukulele as well as rhythm guitar; his uke surfaces near the end of "Everybody is Africa," another instantly memorable number. Paul Hola's Hammond B-3 is a third asset in giving Public Property a soulful "roots" sound. (See feature on Page 6.)
John Berger
, who has covered the local entertainment scene since 1972, writes reviews of recordings produced by Hawaii artists. See the Star-Bulletin's Today section on Fridays for the latest reviews. Reach John Berger at
jberger@starbulletin.com
.