Thriving local music scene filling up schedule
ONE OF my favorite things about the local music scene is its variety.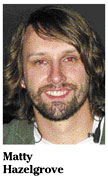 Live entertainment has thrived since I started covering this beat in 2002, and I'm not just talking about traditional and contemporary Hawaiian music. Rock, ska, jazz, salsa and hip-hop all have solid followings in Honolulu.
Don't know where to go? Maybe you should pay closer attention to this column and my blog on Starbulletin.com. And if you're into all the different permutations of rock, subscribing to BAMP Project's e-mail list is so necessary.
"I think there's definitely a new trend in the indie scene," said BAMP co-founder Matty Hazelgrove. "It's no longer a small, core group of people who are knowledgeable ... the mainstream is starting to latch on."
Hazelgrove became a promoter with buddies Brad Smith, Aubrey Butin and Philip Pendleton when they brought Steel Pulse to the Waikiki Shell in 2005. Smith left the crew in 2006.
This year, BAMP is throwing things into overdrive with a flood of concerts. Incubus' March 21 show with the Silversun Pickups is the biggest of more than a half-dozen announced through April, when the Plain White T's return to Honolulu. The Starting Line and Ween also are on the way.
"Hey, in this business you gotta take a risk," Hazelgrove said with a laugh. "The way we look at it ... club prices are starting to become comparable, to a degree.
"Clubs were $5 and $10, and now it's $15 and $20. But $22 for live music from a national artist ... legitimatizes concerts as a viable option."
So start saving that cash, because Hazelgrove says BAMP has no plans to slow down. They're serious about growing the scene, exposing residents to different music and inspiring local bands ...
KEEPING WITH the local theme, congrats to Maui Brewing Co.'s Garrett and Melanie Marrero, who announced an expansion to their Lahaina brewery and renovations to their brewpub.
"We're just growing and growing," Garrett Marrero said earlier this week. "Hawaii wants more local beer ... and the fact that we make 100 percent of our beer in the islands is a pretty big deal."
While other brews produce only a fraction of their beer here, Maui Brewing completes the entire process in Lahaina. All necessary ingredients and materials, including new cans manufactured in Kapolei, are shipped to the brewery.
"People here are big supporters," said Marrero. "Plus we officially make the best craft beer in Hawaii. We won 11 medals last year in regional, national and international competition."
If you haven't yet tried their Big Swell IPA, Bikini Blonde Lager or Coconut Porter, head to Eastside Grill, Ryan's Grill or Town for a single glass; cans are available at Fujioka's, the Liquor Collection, Star Market Moiliili and Times Waialae ...
THIS WEEKEND: The Enterprise introduces a new monthly on Friday. "The Honolulu Art Collective" features an art show from 5 to 9 p.m. and live performances by Power! and the Temporary Lovers afterward ... The Hell Caminos need your help with the music video for their latest single, "Snake Road." If you're down to dress like a zombie (with makeup!), head to Anna Bannana's starting at 11 a.m. Saturday ... Didn't get tickets to the sold-out Chris Brown/Bow Wow concerts? Head to Pipeline Cafe on Saturday for Bow Wow's after-party; doors open at 10 p.m. for the 18-and-over crowd. Brown will host with DJ Baby Drew at Zanzabar the same night for those 21-and-over ...
NEXT WEEK: Promodomo introduces "$2 Tuesdays" at the O Lounge with DJs Mike D and Betty. The bar will open at 5 p.m. for pau hana; no cover before 8 p.m. ... Hot Lava Entertainment presents the sixth-annual "All-Star Pro VIP Kickoff Party" on Wednesday at Zanzabar. St. Louis Rams wide receiver Torry Holt will host ... Fiji, Natural Vibrations and J Boog will perform alongside DJ Quik during the "Island Pro Bowl Bash" at Pipeline Cafe on Thursday. Chris and Ma'ake Kemoeatu, Ben Roethlisberger and Troy Polamalu are among those scheduled to attend ...