---
FAST FACTS HAWAII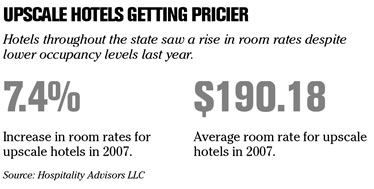 ---
Hoku extends deal with Sanyo
Hoku Materials Inc. said yesterday that it is extending the length of its polysilicon supply contract with
Sanyo Electric Co.
by three years.
The subsidiary of Kapolei-based Hoku Scientific Inc. said the contract has been extended from seven years at $371 million to ten years at $530 million.
The companies also extended the date to which they can end the agreement to May 31 if Hoku is unable to meet certain production and shipment milestones.
Hoku may begin shipments to Sanyo from its planned polysilicon plant in Pocatello, Idaho, as early as next year.
Cyanotech in marketing deals
Cyanotech Corp.
, a Kona-based producer of nutritional products, said yesterday it is partnering with a direct-sales company to market its astaxanthin product BioAstin.
OceanGrown International will sell several natural products in its OVAE skincare line with BioAstin as a key component.
Cyanotech also announced a contract to supply Valensa International, a company that specializes in supercritical carbon dioxide extraction, with Haematococcus, while Valensa will provide Cyanotech with extraction capabilities to produce BioAstin raw material.
New hires / Promotions
» Smith Brothers Construction has named
Gloria Salem
as sales manager. She will be responsible for marketing to new clients, community development and vendor relations. She has 15 years of sales and marketing experience, as well as construction and remodeling with homes on Maui and Del Mar, California.
» L&L Franchise has named Bryan P. Andaya as chief operating officer. He will oversee all day-to-day operations for the company. He currently practices law as an attorney with Imanaka Kudo & Fujimoto and has also served as president and chairman of the Honolulu Filipino Junior Chamber of Commerce, president of the United Filipino Council of Hawaii and treasurer of the Filipino Lawyers Association of Hawaii.
» Hawaii Medical Center has announced the following new hire and promotion: Dean E. Pang has been named chief information officer. He will oversee the information technology systems for the hospitals. He previously served at Castle Medical Center and has 20 years of information systems and software experience. Maria L. Kostylo has been named chief nursing officer of Hawaii Medical Center East. She has previously served nursing manager positions for St. Francis Medical Center and Hawaii Medical Center East and has more than 19 years of nursing experience.
» The Oceanic Institute has announced the following new hire and promotion: Connie Kawamoto has been hired as human relations generalist. She will oversee all human resources administration including recruitment, selection, employee development and relations, compensation, HRIS, payroll and benefits. She previously served as head of human resources at the Salvation Army for more than 11 years. Chisa Woodley has been promoted to controller from senior accounting manager. She will oversee accounting functions for the organization including financial statement preparation, internal controls development and budget management. She has served the organization since 2004.
» ResortQuest Hawaii has named Lauren Fisher as sales manager for the Big Island sales team. She will be responsible for developing new group business opportunities for the company's Kona by the Sea, Shores at Waikoloa and Waikoloa Colony Villas resorts. She previously served as sales manager for the Clift Hotel in San Francisco.
Board of directors
» The Kakaako Improvement Association has elected its board of directors for 2008: Officers are
Robert Oda
, president;
Donna Farrell
, vice president; and
Stacey Suzui
, secretary and treasurer. Board members are
Marlene DeCosta, James Frierson, Beverly Harbin, Kendall Hee, Jay Kadowaki, Paul Kimura, Greg Meier, Dexter Okada
and
Alison Wong. Sherry Goya
is executive director.
---
BUSINESS PULSE