---
FAST FACTS HAWAII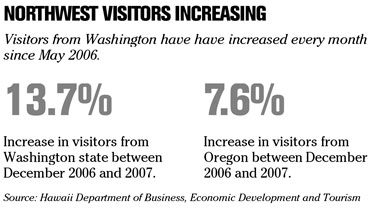 ---
HAWAII
Trust leasehold sales brisk
The Queen Liliuokalani Trust says it is seeing higher-than-anticipated sales of the fee interest in its Waikiki leasehold condotel units. Sales are particularly strong among Canadian and Japanese investors now that interest rates have dropped and the value of the dollar has substantially fallen.
NATION
FBI probing subprime-loan fraud
WASHINGTON » The FBI said yesterday it is investigating 14 companies for possible accounting fraud, insider trading or other violations in connection with home loans made to risky borrowers.
Agency officials did not identify the companies under investigation but said the wide-ranging probe, which began in spring 2007, involves companies across the financial services industry, from mortgage lenders to investment banks that bundle home loans into securities sold to investors.
The Federal Bureau of Investigation is working in conjunction with the Securities and Exchange Commission on the corporate-fraud probe, said Neil Power, chief of the FBI's economic crimes unit in Washington.
As the nation's housing crisis worsens, there has been a dramatic spike in the number of mortgage fraud cases under investigation. An agency spokesman said 1,210 such cases are open, up from about 800 a year ago.
Countrywide loses $422 million
LOS ANGELES »
Countrywide Financial Corp.
, the nation's largest mortgage lender, said yesterday it swung to a loss in the fourth quarter due to rising loss provisions and impairment charges as more borrowers fell behind on mortgage payments. The earnings fell well short of Wall Street estimates.
The Calabasas, Calif.-based company lost $422 million, or 79 cents per share, during the fourth quarter, compared with earnings of $622 million, or $1.01 per share, during the same period the previous year.
Yahoo quarterly profit drops 23%
SAN FRANCISCO » Slumping
Yahoo Inc.
's fourth-quarter profit dropped less than analysts feared, but management signaled the Internet icon's turnaround efforts may still take another year to pay off.
The company said yesterday it earned $205.7 million, or 15 cents per share, during 2007's final three months, a 23 percent drop from net income of $268.7 million, or 19 cents per share, at the same time in 2006.
Last year marked the first time Yahoo's earnings have dropped from the previous year since the company lost $93 million in 2001 during the aftermath of the dot-com bust. That was also the last time that Yahoo fired hundreds of workers.
HAWAII INC
New Hires / Promotions
» Alexander & Baldwin has promoted
Tanya Webb
to manager of tax compliance from senior tax accountant. She will oversee income tax compliance for the company and its subsidiaries, and preparation and filing of income tax returns and payments. She joined the company in 2007 as a senior tax associate and has also previously served at Ireland San Filippo in San Francisco and PricewaterhouseCoopers in Dallas.
» American Savings Bank has promoted Timothy Schools to president from senior executive vice president and chief operating officer. He will oversee all operations for the bank including formulation and implementation of the strategic plan. He previously served as executive vice president and chief financial officer for The South Financial Group in South Carolina and senior vice president of strategic planning and investor relations for SouthTrust in Birmingham, Alabama. He has also held positions at Sonat in Alabama and PricewaterhouseCoopers in Texas.
» Aqua Hotels & Resorts has promoted William "Bill" Farnsworth Jr. to vice president of finance from director of finance. He will oversee all financial and accounting activities for the company. He previously served at Rockresorts locations in the Caribbean, New England, Wyoming and Hawaii, and has more than 30 years experience in the hospitality industry.
» TD Food Group has promoted Janis Lawton to benefits administrator. She joined the company in 2006 and previously served at Long's Drugs for 11 years.
» Roberts Hawaii has named Dave Mark as marketing manager. He will be responsible for creating and implementing marketing programs for the company, including strategies related to branding, public relations and development. He has served the company for five years and has also previously served as promotions manager for the Pacific Bar Association and as an advertising assistant for Oahu Publishing.
» MontPac Outsourcing has hired Wut Hmone Thant as client services manager. She will be responsible for quality of the company's services and deliverables, business development and sourcing new clients. She previously served as a company accountant in Australia and also serves as a treasurer for the Myanmar Association of Hawaii.
» Hawaiian Electric Industries has announced the following executive appointments effective Feb. 1: Eric K. Yeaman has been named senior executive vice president and chief operating officer of Hawaiian Electric Company. He previously served as chief operating officer for Kamehameha Schools. Curtis Y. Harada has been named acting financial vice president, treasurer and chief financial officer. He will retain his duties as controller. Robert Alm has been promoted to executive vice president for public affairs from senior vice president of public affairs. Tayne S.Y. Sekimura has been promoted to senior vice president of finance and administration from financial vice president.
---
BUSINESS PULSE