---
FAST FACTS HAWAII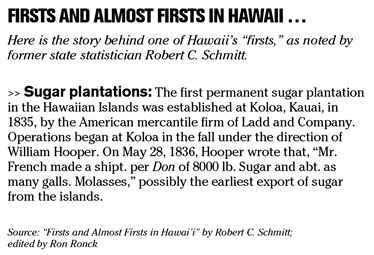 ---
'Sleepworking' evidently common
Some might consider it their worst nightmare: Completing work-related tasks in their dreams, a phenomenon that's been dubbed "sleepworking."
But others are making the most of the hours they are clocking in their sleep.
In a recent survey, more than half of the respondents said work becomes a focus of their dreams, and nearly 70 percent of those people said they solve a problem or have a revelation about their jobs while they are sleeping.
"It's not necessarily a bad thing to dream about our jobs," said Robert Stickgold, an associate professor or psychiatry at Harvard Medical School. "Your brain is calculating what it needs to be paying attention to, and dreams become effective for problem solving. But if work is all you're dreaming about then it's obsessional, which is a problem."
The Staples National Small Business Survey, conducted through an Internet poll of more than 300 people, also found that 72 percent of respondents make business calls while driving and nearly 40 percent say they get their best ideas behind the wheel.
California, New York rated worst
California and New York are rated by top executives as the worst states to do business, according to a recent poll of 605 chief executive officers conducted by Chief Executive magazine. Texas and Nevada were listed as the best two states.
The CEOs were asked to evaluate their states on a broad range of issues, including proximity to resources, regulation, tax policies, education, quality of living and infrastructure.
Those same four states were ranked as best and worse for the past three years.
"California and New York are both highly regulated and have high taxes, so CEOs are not very excited about growing business there," said Ed Kopko, CEO and publisher of Chief Executive. "It's not accidental that we're seeing population shrinkage in those states, because jobs are going elsewhere."
Kopko said that Texas, which does not have a state income tax, was praised for the ethics and motivation of the employee pool there.
North Carolina replaced Florida in the third best spot, while Michigan, home of the struggling auto industry, took the third-worst state spot over Massachusetts.
Tax policies and regulations were weighed the most by CEOs, but quality of living was also an important factor, Kopko said.
For instance, though very supportive of low taxes, CEOs criticized the status of education systems in low tax states.
Hawaii ranked 38th in the survey, behind Arkansas and ahead of Pennsylvania.
PDAs a headache for IT experts
The luxury of working from a handheld computer while on the go may save you time and hassle, but it's giving someone else a headache.
The Computing Technology Industry Association, or CompTIA, says that information technology departments are spending much more time and money supporting personal digital assistants, or PDAs, than any other office technology.
In fact, IT professionals have reported investing 30 times more energy and money to support the Blackberry smart phone than laptop computers.
"People want to be mobile, and want the same access in their hand to applications and data that they would have at their desks," said CompTIA spokesman Steven Ostrowski. "But the Blackberry and similar devices pose much higher security risks, whether it's misplacing them or not connecting securely. These are things that people don't take into consideration as often with PDAs as they do with computers, and it's a become real challenge that IT departments are wrestling with."
Connecting mobile devices with network printers and other technology can also prove difficult or time consuming, Ostrowski said.
It can also be expensive, as companies often need to update other devices so that they are compatible.
In addition to personal digital assistants, Information technology professionals also find themselves increasingly investing time to fix or support other handheld devices including digital music players and cell phones, Ostrowski said.
---
BUSINESS PULSE