| | |
| --- | --- |
| | Wood Craft |
---
Michel was a fabulous chef and the complete charmer
M
ichel Martin
, who died Jan. 15 at the grand age of 100, was The Man when it came to Hawaii's chefs in earlier years. His reign at Michel's at Colony Surf was fabulously successful. He was a wonderful host, a real charmer. He had a good run at Chez Michel at Eaton Square, too.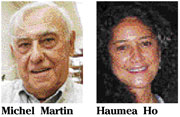 And there was a modest spot called the Lunch Box where he cooked meals on Young Street. A place I loved was his first Chez Michel in a narrow, little Kalakaua Avenue alley. The food was excellent, of course, and quite reasonable. A massage parlor was located right across from the eatery and a hooker or two could occasionally be seen nearby on Kalakaua. I don't think massage girls or the ladies of the evening upset Michel much. After all, he called women "tomatoes." He was so charming, he could get away with it. Just ask
Joan Rodby, Jean Anderson, Cobey Black, Eve Rosen, Betty Robertson, Dorothy McMillan
and
Claire Lau
. After their aerobics class, they always went to the Patisserie at Kahala Mall, Michel's final spot. They adored him, as did so many others ...
Things will be hot on Fat Tuesday, Feb. 5, from 6 p.m. to 2 a.m., when Sheraton Waikiki holds a pre-grand opening party for Rum Fire, with a Mardi Gras theme including plenty of jazz and blues. Guests are urged to wear Mardi Gras attire. Pre-sale entry tickets are $10. Call 947-3101... Joe Leineweber's last name was misspelled in Wednesday's column ...
Don Ho special repeats Monday on KGMB
The excellent special on
Don Ho
that ran Tuesday night on KGMB will be repeated Monday at 8 p.m. "Don Ho Remembered" covers the entertainment legend's life from beginning to end. Producer-director
Phil Arnone
, writer
Robert Pennybacker
and narrator
Leo Anderson Akana
did an exceptional job. Particularly touching moments came when Don's son,
Dwight
, as a youngster, was filmed as Don sang "Days of My Youth;" and when Don's daughter,
Dondi Ho Costa
, tearfully spoke of what she was doing when her dad died. Perhaps the most sentimental moment was when Don's wife,
Haumea
, said that about three weeks before Don died, he told her, "I love being married to you." She said, "In my 26 years with Don, it was the biggest gift he gave me" ...
Ben Wood
, who sold the Star-Bulletin in the streets of downtown Honolulu during World War II, writes of people, places and things in our Hawaii. E-mail him at
bwood@starbulletin.com