| | |
| --- | --- |
| | Island Mele |
---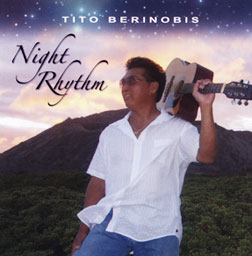 "Night Rhythm"
Tito Berinobis
(Hula-La Productions)
Tito Berinobis has spent several decades playing island standards and the hits of the day in local cocktail lounges. He steps forward here as a singer-songwriter with a full album of original songs, a mixed bag of contemporary hapa-haole songs ("My Hawaiian Moon" and "Sassy Hula Girl," to name two), instrumentals and earnest local pop love songs that express his love for his wife, Shari B erinobis, his daughters and grandchildren.
It's almost a one-man project since B erinobis plays every instrument except sax. Billy Beimus guests on that instrument, and David Kauahikaua contributes backing vocals.
"Island Silhouette," the first instrumental on the album, is a fine showcase for Berinobis' talents as guitarist and arranger. The melody has a familiar sound to it but the overall impression is fresh.
Beimus' sax is the key ingredient in making one of the other instrumentals a swinging jazzy interlude, but it's Berinobis playing all the instruments on "Sassy Hula Girl," another number that swings.
"My Hawaiian Moon" effectively positions Berinobis as a local balladeer. Although the string effects are a bit intrusive , the melodic interplay between harp and keyboards works well.
As might be expected of a man who spent so many years playing in bars and cocktail lounges, Bernobis' arrangements embrace other pop styles; there's a little rock here, some light calypso there, and a hint of the blues on "R&B&B."
Bernobis closes with a '60s-style message song, "We Can Make A Difference," that offers hope in vague but optimistic terms while allowing the listener to find an appropriate course of action in making things better.
Hula-La Productions
647 Kalanipu'u Str.
Honolulu, HI 96825
---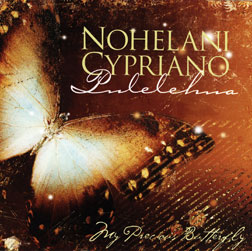 "Pulelehua"
Nohelani Cypriano
(Cypriano Productions)
Nohelani Cypriano teamed up with philanthropist Dr. Lawrence Tseu and her long time musical partner (and ex-husband) Dennis Graue to create this memorable, albeit enigmatic, album. Tseu is credited as the "angel" who made the album possible; Graue, a keyboard wizard and synth-track specialist second to none in the islands, is her co-producer. The album lacks adequate production credits, but, based on their previous projects together, it is safe to assume that Graue also provided the instrumentation.
At its best, the album is proof of Cypriano's vocal talents. Nohe, you've been away too long!
The selections are an assortment of Hawaiian and hapa-haole standards, pop chart hits and contemporary Christian music. Composers' credits aren't included for any of them so it can only be assumed that the unfamiliar songs -- "Mama, I Love You" and "Mother I Miss You," to name two -- are originals.
Cypriano's mother, Leina'ala Simerson, is featured on three Hawaiian standards. Those recordings would date from sometime in the 1990s. Were they made as part of a planned mother-and-daughter album? Maybe, but the liner notes don't say.
What's certain, however, is that the album is a welcome return for Cypriano, and that she and Graue still are a productive musical partnership.
---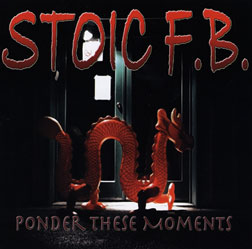 "Ponder These Moments"
Stoic F.B.
(Made In Pain)
There's plenty to ponder in this musical calling card from the Big Island. One photo shows a five-member group performing, others show a quartet, but whatever the roster may be, these guys are proof that unadulterated high-octane alt-rock is alive and well in Hawaii.
"Forgive Me" stands out as an example of the group's imagination as writers and arrangers. The ever popular, ever relevant themes of alienation and rejection are addressed effectively with an arrangement that suggests the struggle to remain sane and rational while enduring stress and self-doubt -- "Even when I'm first why do I feel I'm last?"
Selections with thought-provoking titles such as "Thoughtless Thinking" and "Mental Molestation" also invite attentive listening.
An unlisted final track awaits those who are patient enough to wait through the more than four minutes of silence that follows the final chords of "Scars of Life."
John Berger
, who has covered the local entertainment scene since 1972, writes reviews of recordings produced by Hawaii artists. See the Star-Bulletin's Today section on Fridays for the latest reviews. Reach John Berger at
jberger@starbulletin.com
.