National stand-up deal adds to Augie T's busy calendar
LOCAL COMEDIAN
Augie Tulba
planned to keep a relatively low profile during the first few months of 2008. "I was gonna take a nice break this year," he said last week before leaving on a four-day trip to Saipan. "(But) I just signed a national deal for my stand-up."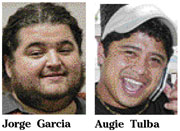 Later this year, Tulba will hit the road with the likes of Na Leo and Willie K for "One Hawaii," a variety show of sorts that will bring a taste of the islands to mainland fans.
Before that happens, however, the comic and TV/radio personality will make some major moves here at home and elsewhere in the Pacific.
First up: "The Augie Show Special," which aired Wednesday on KHNL, followed by a six-month run of "The Augie Show" on KFVE starting Monday at 10:30 p.m. Also in the works is a comedy concert on the Hawaii Superferry ("I'm 99 percent sure it's gonna happen") and a return to Honolulu radio next month on KQMQ-FM.
And if that's not enough, Tulba also plans to launch a weekly stand-up gig at the Pagoda's LaSalle Lounge later this year. He's even in talks to host a TV show in Guam ...
THE NEW YEAR brings new tour dates for a number of local musicians.
Paula Fuga is already on the road; she'll be joined by the Girlas and Ernie Cruz Jr. tonight in Berkeley, Calif. The Isouljahs' Ras Mikey and Lion Fiya embark on the "King's HI-Way Tour '08" next week, with seven dates planned throughout California (including a Feb. 1 opening set for the legendary KRS-One).
Tempo Valley will be in Santa Monica, Calif., on Wednesday, sharing the stage with Bridget Gray during "Reflection" at the Temple Bar. And after debuting last year on "Late Night with Conan O'Brien" with Dean Taba and Noel Okimoto backing him up, Jake Shimabukuro will return to the program on Feb. 19 for a solo performance.
And I recently found a flier online for what appears to be a Go Jimmy Go appearance in Spain on March 15 ...
CAN'T WAIT for the new season of "Lost" to start on ABC? You can count on Jorge Garcia, who plays Hurley, and his personal blog to help get you through the wait for the new season to get underway.
"Dispatches From the Island" (www.dispatchesfromtheisland.blogspot.com) started last August, and Garcia has been pretty good about updating the site regularly, despite the ongoing writers' strike in Hollywood. Early entries briefly mentioned what was happening on the "Lost" set, but he has since moved on to more personal topics.
Did you know Garcia is a big fan of the video game "Big Buck Hunter Pro?" Or that he loves it when fans create artwork that features his character and post it online? He also chronicled Halloween, Thanksgiving and a recent trip to Kauai. It's good stuff ...
FRIDAY'S PICKS: Christian punkers MxPx play an all-ages show at Pipeline with special guests Unit 101. Doors open at 6 p.m. ... HI-Blend Productions and Universoul return to Tio's for "The Corner" from 10 p.m. to 2 a.m. No dress code for this one, and you get free entry into the Living Room with your hand stamp ... Dimitri from Paris returns to the islands for another gig at NextDoor; doors open for "Pacific Standard" at 9 p.m., but don't expect to see him on the decks until well after midnight ...
SATURDAY'S PICKS: "X-1: Champions" goes down at the Blaisdell Arena, starting at 5 p.m. A four-man tournament for the X-1 middleweight title is planned, with local fighters Mark Moreno, Kaleo Kwan, Eddie Yagin and Sean Sakata signed to title bouts as well. Natural Vibrations will be on hand to perform live ... Support Hawaii hip-hop producers during "The Concrete Circuit" at thirtyninehotel. The beat showcase features DJ Bumble Bee, Fame, Iyah and Aislin combining their talent live, with guest performances by Hidden Habitats and Ija. Doors open at 9 p.m. for the 21-and-over crowd ... Happy birthday to Architechs Hawaii's Blaise Sato. He'll celebrate with a special all-black theme at "Monkey Bar" in the Hyatt Regency Waikiki ...