Hoku losses narrow in third quarter
Hoku Scientific Inc.
posted a fifth consecutive quarterly loss yesterday, and said it expects costs related to its planned polysilicon production operations to increase "significantly" into the fourth quarter.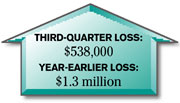 The Kapolei-based alternative energy provider had a fiscal third-quarter net loss of $538,000, or 3 cents per diluted share, compared to $1.3 million, or 8 cents per diluted share, the year earlier. Four analysts surveyed by Thomson Financial estimated a loss of 10 cents for the quarter.
Revenue for the quarter ending Dec. 31 was $1.3 million compared to $1.1 million in 2006. Hoku, founded as a developer of fuel-cell technology, generated all of its revenue from solar-electric system installation.
Dustin Shindo, chairman, president and chief executive officer, said yesterday that the polysilicon plant Hoku is planning in Idaho is designed to allow for significant expansion.
The plant will have a 2,500-metric-ton annual capacity when it begins operation in 2009, and Hoku has said it plans expansion to 3,500 metric tons a year in 2010 -- but Shindo said it might go much higher if demand warrants.
"We believe we have sufficient space to expand our polysilicon production to up to 8,000 metric tons per year on our existing 67-acre property," Shindo said in a conference call with analysts and investors.
Hoku is relying on prepayments from Germany-based Solar-Fabrik AG, Solarfun Power Hong Kong Ltd., China-based Suntech Power Holdings Co. Ltd. and Japan-based Sanyo Electric Co. Ltd. to finance the $400 million plant, which is expected to bring in up to $1.5 billion in revenue in seven to 10 years.
Hoku has already invested $17 million of the $240 million it has received in prepayments. Shindo said the company expects to receive $135 million in the second half of this year; $68 million in the first half of 2009; and $20 million after that.
The company also signed a nonbinding letter of intent with Merrill Lynch & Co. in the quarter to borrow $185 million for the construction and start-up of the plant. The closing of the loan is subject to terms including a requirement that Hoku raise an additional $35 million in cash for the plant and will expire on May 31 if neither Hoku nor Merrill takes action.
Hoku expects fourth-quarter revenue of $600,000 to $1.2 million and losses through next quarter with a jump in polysilicon manufacturing development.
Also yesterday, Hawaiian Electric Co. said it had filed with the state Public Utilities Commission to purchase electricity from a 167-kilowatt solar system Hoku wants to install on its Archer Substation at Ward Avenue.
Shindo said the company is shifting its focus to larger solar projects with higher gross margin, such as deal announced Monday for a 1.5-megawatt solar plant near Campbell Industrial Park.