---
FAST FACTS HAWAII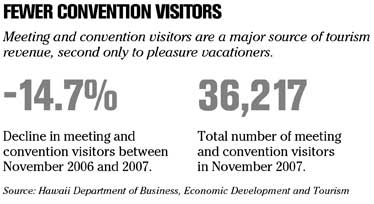 ---
Wind farm tops expectations
MAALAEA, Maui » Maui's Kaheawa Wind Farm produced nearly 10 percent of the electricity sold by the island's utility company in its first full calendar year, according to the farm's owners.
The wind farm's output was more than 125,000 megawatt hours, enough to supply 11,000 homes, said Michael Alvarez, executive vice president and chief operating officer of owner UPC Wind. It generated slightly more energy than forecast.
Wind energy saved Maui Electric Co. from having to buy more than 236,000 barrels of oil, Alvarez said.
UPC plans to increase its maximum output from 30 megawatts to 51 megawatts, he said.
Morgan Beret leaves Kahala Mall
Morgan Beret
, a fine lingerie boutique, is moving from Kahala Mall after seven years at the location.
Owner Julie Hassel is holding a moving sale for the entire stock -- at 40 to 60 percent off -- until the end of the month.
She is negotiating a new lease at another Honolulu location, but declined to say where at this time.
Morgan Beret has made a name for itself, particularly with bra fashion shows that benefited breast cancer awareness and the Susan G. Komen Foundation.
Brief case
LOWERED TARGET.
Target Corp., which said this month that same-store sales for January would range between a decline of 1 percent and a gain of 1 percent, said yesterday its sales would be at the low end of that range. It is due to report results on Feb. 26.
GETTING VIRTUAL. Microsoft Corp. yesterday announced moves aimed at catching up in a technology that lets one physical computer house multiple "virtual machines." Microsoft said it plans to acquire Calista Technologies Inc., expand an alliance with Citrix Systems Inc. and cut the cost of licensing Windows for use on virtual machines.
---
BUSINESS PULSE