---
FAST FACTS HAWAII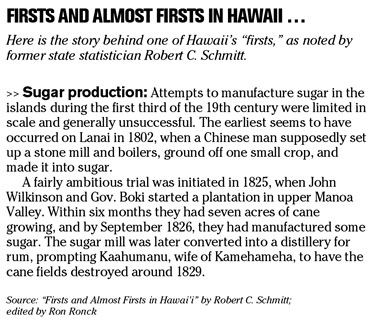 ---
NATION
How to make bad weather pay
Global warming's higher temperatures aren't upsetting just Al Gore -- they also have coat makers sweating, to the tune of $10 million per season.
Last October, gearing up for the pitch of the pre-Christmas winterwear season, Weatherproof Garment Co. President Freddie Stollmack and Chief Executive Eliot Peyser decided that after 2006 -- the warmest year on record in the United States -- they needed to insure their coat sales against 60-degree December days.
They called in Storm Exchange Inc., which offers a "weather hedge" against unseasonal temperatures.
"It literally pays if the weather is bad," said Storm Exchange Chief Strategy Officer Paul Walsh. "We put a value on the changing weather in relationship to sales."
Weatherproof deemed the winter weather risk to its sales to be up to $10 million. If temperatures throughout November and December, the prime full-price retail season, rose a certain amount above average, Storm Exchange would have to start paying up.
"The problem nowadays is that the weather is variable from week to week," said Walsh. "The only way they can (manage) is to put in place a financial hedge."
Winter stayed blustery in 2007. But the company plans to keep up the insurance.
"It never kicked in, and we're delighted it didn't," said Stollmack. "That's something we never want to cash in on. Our business is to sell apparel."
Seasonal hiring was lowest ever
Seasonal workers were lucky to be folding sweaters and stocking shelves this holiday.
Seasonal hiring for December was the lowest ever, according to a Challenger, Gray & Christmas Inc. analysis of government data. This holiday shopping season saw retailers adding the fewest seasonal hires since 1991, when the economy was in recession.
Retailers "really were cautious about bringing too many people on," said John Challenger, chief executive of Challenger Gray. "They were obviously concerned that the consumer was tapped out."
And the retailers were right. Sales in December were down the most since June, reported the U.S. government.
Many seasonal workers are lower-wage workers taking second jobs to supplement income, Challenger said. They have traditionally looked to the holiday hiring season to relieve pressure on their budgets.
But full-time employees may feel the bite too.
"Now that the holiday season is over, we will see retail employment plunge in January and February," Challenger said, with temporary retail hires voluntarily returning to their normal activities."
Stock market closed today
The stock market will be closed today in observance of Martin Luther King Day. It will reopen tomorrow.
---
BUSINESS PULSE