---
FAST FACTS HAWAII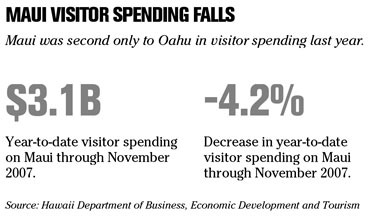 ---
HAWAII
New editor at the Honolulu Weekly
The Honolulu Weekly has named Mindy Pennybacker as its editor. Pennybacker, a 1970 Punahou graduate, was born in Honolulu and attended Stanford University, the Iowa Writers' Workshop and the University of California, Davis, School of Law.
She has written about Hawaiian culture for the New York Times and the Nation and has worked as an editor at Glamour and This Old House. Most recently, she served as the editor of the Green Guide and thegreenguide.com until they were acquired by National Graphic last year.
HAWAII INC.
New Hires / Promotions
» Hilton Waikoloa Village has announced the following new hires and promotions:
Melanie Shelton
has been named assistant director of human resources. She previously served as a human resources consultant and human resources director for the Bald Head Island Limited/Benchmark Hospitality in N.C. and has more than 20 years experience in human resources.
Haley Albertson
has been promoted to assistant director of events from senior event manager. She has also previously served as catering and conference services manager at Caesars Palace and as meetings and conventions manager for the Las Vegas Hilton.
Carmen Boergmann
has been promoted to restaurant reservations manager from assistant banquet manager. She has also previously served as an event services manager for the Hilton Atlanta Airport, a restaurant manager at the Hotel Jodquellenhof Bad Tolz and manager of the Pallazzo Colombino in Germany.
Edwin Cayetano
has been promoted to laundry manager from laundry supervisor. He joined the resort in 1993 and has also served as a night cleaning supervisor at the Former Ritz Carlton Mauna Lani.

Rikki Leach has been promoted to human resources training manager from training coordinator. She joined the resort as a hotel assistant manager intern prior to joining the human resources department. Manolito Guanio has been promoted to property operations manager from M-1 lead mechanic back-of-house. He joined the resort in 1993 as an M-3 mechanix front of house. Tom French returns to the resort as credit manager. He previously served as inventory accountant onboard the Pride of Aloha for NCL America for four years and originally served as credit manager for the resort for 10 years. Lorrie Smith has been named benefits coordinator. She has served the resort since 1991 in transportation, red sail sports and front office, and has served as a clerk and administrative assistant in human resources since 2005. Owana Wilcox-Likiaksa has been named training coordinator. She has served the resort for more than nine years in the food and beverage department. John Scovel has been named human resources employment coordinator. He previously served as lead supervisor and supervisor for the resort's security department. Lisa Hamelton has been named administrative assistant in the human resources department. She previously served as an administrative assistant for Clark Realty Corporation in Kona and Taylor Psychological Group in California.
NATION
Sprint plunges on customer losses
reston, Va. »
Sprint Nextel
's announcement yesterday that it is losing customers more rapidly than expected is making investors nervous about a weak economy's effect on other wireless companies.
Shares of Sprint fell $2.87, or 25 percent, to $8.70 after it said it planned to lay off 4,000 workers and close stores to trim costs as its customer base shrinks.
"It's the magnitude of the weakness that is shocking," said Michael Nelson, an analyst at the Stanford Group, an investment firm.
To reduce costs, Sprint said it planned to cut its payroll by 4,000 workers. The company, based in Reston, Va., has about 60,000 employees.
Sprint also said it would close 125 company-owned retail stores, about 8 percent of the nearly 1,400 in the Sprint chain. The total labor savings, the company said, should be $700 million to $800 million a year.
GE gains fourth-quarter profit
HARTFORD, Conn. »
General Electric Co.
said fourth- quarter profit rose 15 percent on higher international sales of jet engines and power-plant turbines, drawing more than half its annual revenue from overseas for the first time as the U.S. economy slowed.
Profit from continuing operations increased to $6.82 billion, or 68 cents a share, from $5.95 billion, or 58 cents, a year earlier, GE said today in a statement, matching analysts' average estimate. Sales gained 18 percent to $48.6 billion. The world's third-biggest company by market value rose the most in four months, even as broader U.S. stock markets declined.
CEO Jeffrey Immelt's push into global markets was led by a 30 percent jump in the GE Infrastructure group's sales, as developing countries built cities, hospitals and airports and the dollar weakened.
"Every place we went, there's a need for power, there's a need for planes, and there's just no signs that this global infrastructure boom is slowing at all," said Immelt.
California's home prices drops
California's housing slump worsened in December as many would-be buyers met difficulty obtaining financing for jumbo mortgages and others continued to wait out the market, driving home sales and median home prices down sharply, a real estate research firm said.
The state's median home price hit $402,000 last month, down 14.8 percent from $472,000 in the year-ago period, according to DataQuick Information Systems.
Meanwhile, home sales in the state, one of the hardest hit in the nation by the mortgage crisis, plummeted 41.4 percent to 25,585 compared to December 2006.
It was the lowest sales total for any December in more than 20 years, the firm said.
---
BUSINESS PULSE