New leading man
McMackin finally gets his wish after succeeding Jones as UH coach
STORY SUMMARY »
Family has always come first for Greg McMackin, the family of five he calls the Mack Pack. Well, yesterday, the Mack Pack just got a lot bigger.
"I always wanted to be a head coach," McMackin said, and he received his wish yesterday when the former Hawaii defensive coordinator was named UH head coach. And McMackin is the beneficiary of what appears to be the start of a new commitment to football, as his salary is a record for any Hawaii coach at $1.1 million per year.
McMackin and his family have traveled the country the past 40 years, going from one coaching job to another. At 58, he hopes this is the last one. So does his wife, Heather.
"Sometimes it's taken us to places, I wondered, do we really need to be here? Klamath Falls (Oregon) and Moscow (Idaho)," she said. "Small, isolated, weather. I didn't dislike it, but it's easier in the sunshine than shoveling snow. We've always had a connection and we're thrilled to be able to stay here. We're happy to be part of a big ohana."
McMackin said he will be moving his daughter Shannon and grandchildren Kayla and Taylor to Hawaii from Texas.
"I just don't want to miss these years of their lives, and they feel the same way," Greg McMackin said.
GREG MCMACKIN
Born: April 24, 1949, in Springfield, Ore.
Education: Bachelor's from Southern Oregon (1969), Master's from Arizona (1970).
Position: University of Hawaii head football coach
Salary: $1.1 million per year, 5-year contract
Notes: UH is 21-5 with McMackin on staff. ... This is the second time he is head coach of a team named the Warriors. The other was Aloha High School in Beaverton, Ore., 1971-73. ... Named Big 12's best recruiter while at Texas Tech.

---
FULL STORY »
One scorching day last fall in Manoa, a couple of Hawaii football players loosened up for practice in the shade of a tree. There's nothing wrong with this, except that it took them about 10 feet out of formation with their 100 teammates who were in the sun. And Greg McMackin was watching.
McMackin, smiling as usual, walked over to chat with the young men stretching under the tree. McMackin addressed them by name, asked them how they were doing that day, how school was, and how they were enjoying the shade.
Then, still smiling, the defensive coordinator told them to get the hell in line with their teammates.
"I've got two personalities. I have my normal personality. When I get mad, people know it," McMackin said. "They react to it."
The affable gentleman can turn into the snarling drill instructor. Don't mistake kindness for weakness.
"Not only does he care for us, he understands when he needs to be stern and a disciplinarian," senior linebacker Adam Leonard said. "He quickly set a lot of people straight when they got too comfortable on the playing field. When things need to be addressed, potential problems, he takes care of them before they get to that point."
McMackin, 58, was introduced yesterday as the new head coach at UH. It's hard to find anyone who wasn't happy for him, who doesn't like him. It was like your favorite uncle winning the lottery.
But people who know him say McMackin has earned his new million-dollar salary and is as no-nonsense as they come. That's a big part of why he's respected by colleagues and players.
"Old Gregory is a good old boy," said Mouse Davis, who was head coach of the USFL's Denver Gold when McMackin was the defensive coordinator and June Jones was the offensive coordinator. "He gets fired up and excited. But he won't look over shoulders -- he can delineate responsibility. Some coaches haven't learned that."
McMackin considers himself a teacher above all else. And he has different methods for different situations.
"I've been around all kinds of coaches, and my style is that I want to teach kids. If they're not doing what I tell them to do, I get a little stronger with them. If they're not listening, then I go to the next guy," he said. "I try to treat them professionally, like men. I don't have a lot of rules. But No. 1 is don't embarrass the program. That pretty much covers everything. I treat them as individuals and try to keep great communication. That's important to me."
Tackle Mike Lafaele, UH's defensive captain in the just-completed 12-1 campaign, said McMackin hit all the right notes with the players in his one season with them (he was also UH defensive coordinator in 1999, when Hawaii went 9-4 in Jones' first season).
"When he gets intense, he's very influential. A lot of character. Everyone has a lot of respect for him, because he respects us. He boosts our confidence," Lafaele said.
"The Idaho game, he got us jacked up. He was getting irritated and frustrated about Craig James calling our defense garbage. He got us fired up. We probably played our best game," Lafaele added.
McMackin first came to Hawaii in 1977, when he coached at Idaho and the Rainbows beat the Vandals 45-26 at Aloha Stadium. Nearly a decade later he met Ron Lee through Davis and Jones, and Lee joined him as offensive coordinator at Oregon Tech, McMackin's only other college head coaching stop.
While at Oregon Tech, McMackin and Lee recruited Hawaii heavily -- including Erin Hall, one of a long line of prolific run-and-shoot quarterbacks developed by Lee and his brother Cal at Saint Louis School. They broke records and won championships at Oregon Tech. The Lees became friends of McMackin's. McMackin hasn't unveiled his UH staff yet, but the Lees, position coaches at UH under June Jones, are likely to become the offensive and defensive coordinators.
Ron Lee was asked to pick several words to describe McMackin.
"Smart. Sincere. Loyal," Lee said.
Then he added another.
"Demanding," Lee said. "With him, there's a time and place (for fun). He's very demanding of the players and coaches."
McMackin's wife, Heather, has known him since they were at Springfield High School in Oregon, when McMackin was the star athlete and she was a cheerleader. She said their connection was deeper, though.
"We were two halves of one person and found each other when we were young and we both are people of faith," she said.
She said McMackin got good grades in high school, and "didn't have to crack a book," while also excelling in football, basketball and track. But when he had to in college at Southern Oregon, he became studious. She said he had a 4.0 when he earned his master's degree at Arizona.
Heather McMackin said her husband has empathy for every player on the roster because of his varied experiences as a coach, and a serious knee injury in high school.
"What makes him really good is that he came up through the ranks," she said. "High school, small college, big college, NFL. And he understands the guy trying to make it, the walk-on, because of his injury that kept him out his sophomore and junior years."
McMackin came back from the injury to start four years as a defensive back at Southern Oregon.
Coaching was his destiny, Heather McMackin said.
"He's a teacher at heart, that's where he's effective," she said. "He can make the tough calls, he won't hesitate. But he has that soft spot, too."
That's especially evident when he speaks of his grandchildren, Taylor and Kayla.
"He thinks he writes half my plays," McMackin said of Taylor. "On my board he's got all these little plays down and he has since he's been 3."
Heather said family is important to her husband above all else.
Football has taken McMackin to 11 different states the past 40 years. He and Heather said they are home now.
"Oregon people are like Hawaii people. They're hard-working, they're honest," he said. "They try to get along. They have great passion ... We love Hawaii. We're going to bring our whole family over."
McMackin mostly conveyed the kindly gentleman persona yesterday. But every now and then the tough guy who has coached Ray Lewis and Jeff Ulbrich came out.
"We're going to continue June's legacy," he said. "And the next time we get to the Sugar Bowl, we're going to kick their ass."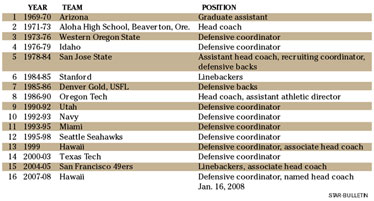 UH football, coach by coach
The University of Hawaii named Greg McMackin its 21st head football coach yesterday.
Name
Years
Record
Austin Jones
1909-11
8-6
John Peden
1915
5-1-1
William Britton
1916
3-2-1
David Crawford
1917-19
11-1-2
Raymond Elliot
1920
6-2
Otto "Proc" Klum
1921-39
84-51-7
Eugene "Luke" Gill
1940
2-5
Gill/Kaulukukui (co-coaches)
1941
8-1
Tom Kaulukukui
1946-50
34-18-3
Archie Kodros
1951
4-7
Hank Vasconcellos
1952-60
43-46-3
Jim Asato
1962-64
15-12
Clark Shaughnessy
1965
1-8-1
Phil Sarboe
1966
4-6
Don King
1967
6-4
Dave Holmes
1968-73
46-17-1
Larry Price
1974-76
15-18
Dick Tomey
1977-86
63-46-3
Bob Wagner
1987-95
58-49-3
Fred vonAppen
1996-98
5-31
June Jones
1999-2007
76-41
Greg McMackin
2008-