STYLE FILE
In the beginning...
Sixty years ago Dior revolutionized the look of women's dresses. A new book tells his story.
STORY SUMMARY »
On the 60th anniversary of the House of Dior, the company recently celebrated the release of "Dior," a 400-page glossy, hardcover book celebrating its founder and 60 years of style. The book, by fashion historian Farid Chenoune, documents the rise of the designer who gave the house his name; his most important haute couture dresses; celebrity models who wore the clothes, from original muse Suzy Parker to Kate Moss; and the couturiers who helped build on Dior's foundation, from Yves Saint Laurent to John Galliano.
"Dior"
By Farid Chenoune
(Assouline, 400 pages with 300 illustrations)
Hardcover, $150, available at Dior boutique, Ala Moana Center
The book's 300 photos capture Dior at work and the fashion during six decades, as captured by top photographers from Irving Penn to Nick Knight.
It would surprise many to know that the designer worked only 10 years in his atelier before he died in 1957 at the age of 52. He made a late entry into fashion, having started as an art gallery owner and, later, sketch artist for couture houses, which led to a design post at the house of Lucien Lelong.
Dior's first collection after striking out on his own debuted in February 1947, and his place in fashion history was set when Harper's Bazaar Editor Carmel Snow hailed his "New Look."
Europe was emerging from World War II. Wartime rationing had led to the boxy, fabric-conserving clothing styles of the early 1940s. Dior's interest was in making women look like women again, and he exaggerated the body's curves with styles that included bustier bodices, wasp-waisted corsets, hip-padding and dresses that flared at the waist -- all combined in a way that was tasteful and chic, not Pamela Anderson-style cartoony.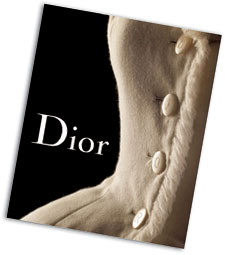 The New Look sparked controversy as the volumes of fabric Dior incorporated seemed wasteful and extravagant to those who had been accustomed to scarcity's conservatism. Nevertheless, this feat revolutionized women's dress. Dior's style -- along with that of contemporaries Cristobal Balenciaga, Jacques Fath and Pierre Balmain -- trickled down to America's housewives of the 1950s and re-established postwar Paris as the center of the fashion world.
Today, designer John Galliano presides over Dior's women's haute couture and ready-to-wear, bringing with him a theatrical and experimental aesthetic that continues to excite as well as ignite controversy -- his spring 2000 homeless-themed collection, which had models dressed in newspaper. Who knows what the next 60 years will bring?