---
FAST FACTS HAWAII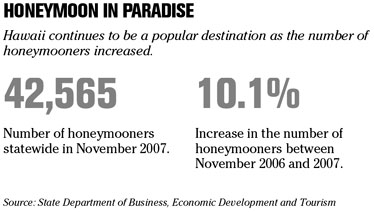 ---
Hawaiian to give away 250 tickets
Hawaiian Airlines
is giving away 250 round-trip tickets from Honolulu to Manila in celebration of its new service there, the company said yesterday. The tickets, which include 20 first-class seats, will be awarded beginning at noon Saturday through a drawing held at Tamarind Park, at the corner of Bishop and King streets. Entries will be accepted from 10 a.m. to noon. Entrants also will be eligible to receive 500 bonus HawaiianMiles. The drawing is free and open to the public. Recipients must be 18 and older, have valid identification and be present to win. Hawaiian will start service to Manila on April 14 of this year with four flights per week. Round-trip fares will start at $848, plus taxes and fees.
Isle firm to offer satellite service
Hawaii Pacific Teleport LP
in Kapolei has signed a two-year contract with Australia-based
Pacific Teleports
to provide satellite-delivered services to Pacific islands.
The telephony, Internet and television services started Monday, stretching from the Northern Mariana Islands to French Polynesia.
The system initially was designed for Boeing to provide Internet to passengers on trans-Pacific flights, the company said. The company also will offer a maritime service with broadband rates above 1Mbps and occasional video services from the islands to U.S. television networks for breaking news and sporting events.
SBA closes disaster loan centers
The Small Business Administration will close its disaster loan outreach centers in Honolulu and Maui counties on Friday at 7 p.m. The centers were opened temporarily in response to the severe storms and flooding that occurred in early December. Employees work on a short-term basis to provide one-on-one assistance in completing loan applications.
Disaster loans of up to $200,000 are available to homeowners to replace or repair their primary residence. Loans of up to $40,000 are available for homeowners and owners to help repair or replace personal property. Businesses and nonprofit organizations may borrow up to $1.5 million. The deadline is Feb. 18 to return applications for property damage and Sept. 19 for economic injury loan applications.
First Hawaiian Bank honors founder
First Hawaiian Bank
is celebrating its 150th anniversary with the release of a documentary film about the bank's founder, Charles Reed Bishop. The 30-minute film will air on Bishop's birthday, Jan. 25, at 6:30 p.m. on KHON, with a replay on Jan. 21 at 8:30 p.m. on Oceanic Cable Channel OC16. DVD copies of the film, which was written and directed by local filmmaker and producer Tom Coffman, will be available at all Hawaii public libraries.
First Hawaiian is the state's largest bank with $12.5 billion in assets. It was founded in 1858 and now has 58 branches in Hawaii, three on Guam and two on Saipan.
New hires / Promotions
» Kaiser Permanente Hawaii has named
Frank Richardson
as the newly created position of executive director of government relations. He will oversee the organization's government affairs program for the Hawaii region. He joined the organization in 2002 as senior counsel in the health and regulatory area and will continue to serve his current position. He previously served as partner in charge of Rush Moore Craven Sutton Morry & Beh's health care law division and has 25 years of legal experience including health care law, commercial litigation, insurance defense and legal and medical malpractice defense.
» Cox Radio has named Veronica Yamagata as local sales manager for KCCN-FM 100. He joined the station in 2001 as an account executive and as new business sales manager in 2006. She has also previously served as retail sales manager for the Honolulu Star Bulletin/Midweek/Military papers and at the Hawaii Newspaper Agency for six years.
» Outrigger Enterprises Group has announced the following new hire and promotion: hired Neal N. Nakashima as corporate director of risk management and insurance. He will oversee the organization's risk management and insurance functions locally and internationally. He previously served as an officer of Aon Risk Services and has more than 30 years experience in the insurance industry. Gregg Enright has been promoted to regional director of condominium operations for Kauai and general manager of the Outrigger Waipouli Beach Resort & Spa. He will oversee all aspects or operations and service for both the condo division and the resort. He previously served as general manager of Outrigger Keauhou Beach Resort since 2004 and has servedthe commpany for 20 years.
» Island Insurance Company has named Caryn Komori as human resources coordinator. She will be responsible for human resources operational and technical duties including employment, recruitment, benefits, health and welfare, and training. She previously served as human resources specialist for Hawaiian Airlines.
» ResortQuest Mahana at Kaanapali has named Clinton Owen as general manager. He previously served as general manager for the ResortQuest Islander on the Beach on Kauai. He joined the company in 1999 as front office manager at the Waimea Plantation Cottages and has more than 15 years experience in the hospitality industry.
» Galaxy Properties has promoted Tricia N. Iseri to broker-in-charge. She will assist principal broker Pauylatte J. Torres in broker funcations and daily operations.
» Grubb & Ellis/CBI has hired Bonnie Oppermann as senior vice president of industrial and investment properties. She previously served as principal broker for the Grand Wailea Lifestyles, and has also served as assistant operating officer for the Damon Estate and Hawaii area manager for HRPT Properties Trust. She is a licensed attorney and real estate broker.


---
BUSINESS PULSE