---
FAST FACTS HAWAII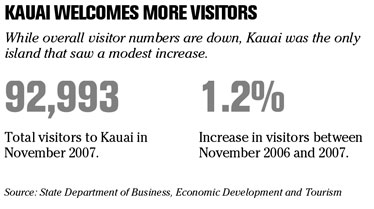 ---
Horizon matches Matson surcharge
Horizon Lines Inc.
, the state's second-largest ocean shipper, has lowered its upcoming fuel-surcharge increase by half a percentage point to match rival
Matson Navigation Co.
's 31.5 percent increase.
Horizon will raise its rate by 2.5 percentage points, from 29 percent to 31.5 percent on Feb. 4, as opposed to the record 32 percent it previously announced for shipments between the mainland and Hawaii and Guam. The increase will offset unprecedented bunker fuel costs that has averaged more than $500 per metric ton over the past six weeks, Horizon said.
"There is simply no way to avoid the impact that rapidly increasing fuel costs have had on our operating cost," the company said.
Matson's fuel surcharge also goes into effect on Feb. 4. Reggie Maldonado, general manager of Pasha Hawaii Transport Lines, the state's third-largest ocean carrier, said he's reviewing the situation. Pasha increased its fuel surcharge 3 percentage points last month to 26 percent.
Paradise Beverages gets solar systems
Hoku Solar Inc., a subsidiary of Kapolei-based alternative energy provider
Hoku Scientific Inc.
, has completed the installation of two turnkey photovoltaic power systems for Waipahu-based
Paradise Beverages Inc.
The 100 kilowatts of panels at the liquor and beverage distributor's Kailua-Kona and Lihue facilities are expected to produce more than 150,000 kilowatt-hours of electricity annually.
Rising utility rates have motivated Paradise Beverages to find ways to reduce electricity costs for its refrigerated and temperature controlled warehouses, the company said yesterday.
The systems are expected to produce enough electricity during their lifetime to power the equivalent of 330 homes for one year and offset 2,300 tons of carbon dioxide emissions.
Kai Sensors gets innovation award
Honolulu-based
Kai Sensors
has been recognized as Frost & Sullivan's 2008 North American Technology Innovation of the Year Award recipient for wireless vital signs monitoring.
Kai Sensors earned the award for developing a breakthrough sensor technology platform capable of the safe and accurate detection and monitoring of physiological vital signs. The wireless device can monitor heart and respiration rates for multiple subjects simultaneously without contact.
Kai Sensors focuses on integrating the technology for three key markets -- health care, the automotive sector and homeland security. Recently, the company secured a significant contract to develop sensor and communication technology on a single chip for the U.S. Army.
Frost & Sullivan presents the award every year, weighing the quality and depth of the company's research and development, as well as vision and risk-taking.
Brief case
SEARS SLUMP.
Shares of Sears Holdings Corp. careened to a three-year low after the retailer warned falling sales would force it to post fourth-quarter and full-year earnings well below Wall Street forecasts.
BRIGHT HORIZONS INDEED. Bright Horizons Family Solutions Inc. will be taken private in a $1.3 billion purchase by Bain Capital Partners LLC, which agreed to pay a hefty premium for the provider of child-care services to employers.
---
BUSINESS PULSE