---
FAST FACTS HAWAII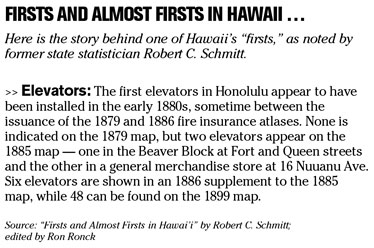 ---
NATION
Here's a tip for you about tips
When it comes to traveling overseas on a business trip, adjusting to a foreign language and currency can be cumbersome on top of a demanding schedule. But for many, knowing what to tip the busboy or hotel concierge is the most stressful part of any international rendezvous.
"Tipping is a cultural obstacle that is unusual in that it falls into that funny netherworld of things extremely awkward, yet people don't often talk about it," said Robert Freedman, president of the business consulting company ORC Worldwide. "There is often a fear that either someone might be offended, or that a business partner may think they are somehow naive or feeble."
The following is a list of appropriate gratuities in major cities around the world, in U.S. dollars:
» London: A 12.5 percent service charge is generally included at restaurants; 10 percent for taxis; up to $2 for hotel porters.
» Paris: Between 5 and 10 percent at restaurants, if a service charge is not already included; no tips for taxis; up to $2 per bag at hotels.
» Dubai: Tips are not obligatory for restaurants or taxis; hotel porters are $1.50 to $3.
» Moscow: 10 percent at restaurants; 5 to 10 percent for taxis; $1 per bag for hotel porters.
» Tokyo: Tips are not necessary.
Free whiskey helped Southwest
When
Southwest Airlines Co.
was just getting its business off the ground in the 1970s, the Dallas-based company faced stiff competition that threatened to crash it. So when the low-fare airline couldn't set its fares any lower, it opted to offer something that others weren't -- a free bottle of whiskey.
"We became the leading liquor distributor in Texas," joked James Parker, Southwest's former chief executive officer.
Parker describes similar business strategies in his recently published book, "Do the Right Thing."
His biggest challenge as CEO: Keeping the airline afloat in the months following the Sept. 11, 2001, terrorism attacks.
Instead of responding to billion dollar losses by laying off employees, as other airlines did, the company cut corners elsewhere, Parker said. Southwest was the only major airline to report a profit that year.
"We had our employees cutting our lawn, and everything else you could think of to save money so that we didn't have involuntary pay cuts," Parker said. "This company was built on the idea of being frugal, and that has made it successful."
Parker, who retired from Southwest in 2004, also takes pride in the fact that he personally handed out peanuts to passengers regularly during flights -- something he said helped him bond with customers and flight attendants.
---
BUSINESS PULSE