Flowing lava stops short of Royal Gardens district
HILO » A finger of lava has stalled after moving toward the nearly deserted Royal Gardens subdivision on the Big Island, but more fingers could be on their way, said geologist Jim Kauahikaua.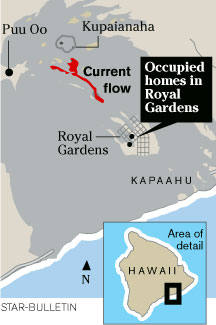 On Wednesday and Thursday the lava came within 0.4 mile of the top of the subdivision before stalling, but the nearest occupied house is another mile downhill from there. The only other occupied house is still farther downslope.
Continued eruption uphill could create a new finger of lava that could again stretch toward Royal Gardens, said Kauahikaua, head of the Hawaiian Volcano Observatory.
A helicopter overflight was planned for today to watch for such a formation, he said. There was no way to predict where a new finger would form, nor how much danger it would pose to the subdivision.
In the past 25 years, lava has overrun the 1-mile-wide, 3-mile-long subdivision numerous times, leaving only remnants.
The eruption now consists of lava nearly reaching the surface at a site called "Fissure D," then moving south just below the surface to several spots where it builds up "shields" or humps of new rock.
One of those shields broke open Wednesday and has not stopped flowing since then, Kauahikaua said.
Geologists do not know how much lava is being pumped out, because they have not had time to prepare before-and-after measurements of the ground, he said.
The only two residents of the remote area -- accessible only by foot, motorcycle or helicopter -- have been advised that the danger is not over, said Hawaii County Civil Defense staffer Duane Hosaka. There is no electricity or telephone service to the subdivision, and cell phones are out of contact there, he said.
Civil Defense has declared the area off limits to the public because of the potential danger, Hosaka said.'