| | |
| --- | --- |
| | Wood Craft |
---
Thanks to June Jones for all he has done for UH football
All the best to
June Jones
as he moves on to SMU after a tremendously successful nine years as UH football coach.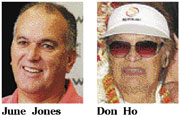 Hats off to former athletic director
Hugh Yoshida
, who hired June to turn around a team that had a horrendous 0-12 record. And June did. He developed championship teams, the last ranked 10th in the nation and getting a Sugar Bowl invite after a undefeated 12-0 season. The Warriors were the only Division 1-A college football team in America to have an undefeated regular-season record. Over the years, he has produced record-setting quarterbacks, thrilling speedy receivers and, with his staff, developed a good number of players who have moved up to the National Football League. So many people in Hawaii have been caught up in the success of the team. I have watched UH football games for more than 65 years and no UH coach has produced teams that have brought more excitement and success to the UH game than June. His teams brought tremendous pride to the people of Hawaii. He deserves overwhelming praise and all the big money SMU will pay him. What I can't understand is people who slam June after all he has accomplished here. Some of the attacks came from people who don't know the difference between a brush block and a brush fire. And the closest some of his critics have come to playing on a football team is wearing a team T-shirt or jersey they bought in a shop. I say, thanks, Coach Jones. You did great! ...
Don Ho will be remembered Wednesday
Many of
Don Ho's
friends and associates are bound to be at Don Ho's Island Grill at Aloha Tower Wednesday evening. A reception for invited guests will be held there to celebrate the release of a book on the entertainer entitled, "Don Ho: My Music, My Life," by Don with
Jerry Hopkins
. A preview of a TV special, "Don Ho Remembered," produced by
Phil Arnone
, will be shown. It will be carried by KGMB on a later date.
Al Waterson
will emcee and entertain with
You
. The public is invited to come and enjoy the entertainment. Books can be purchased and Don's wife,
Haumea Hebenstreit Ho
, will sign them for the public at 6 p.m. ...
Neal Ifversen
and
Nora Meijide Gentry
were crowned king and queen of the Outrigger Canoe Club on New Year's Eve ...
Ben Wood
, who sold the Star-Bulletin in the streets of downtown Honolulu during World War II, writes of people, places and things in our Hawaii. E-mail him at
bwood@starbulletin.com