---
FAST FACTS HAWAII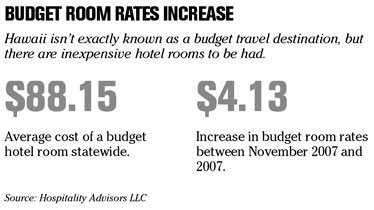 ---
HAWAII
Hagadone wins workplace award
A Honolulu company has been named one of the best printing companies to work at in the U.S. by a 12,000-member national trade group.
Hagadone Printing Co. has been named Best Workplace in the Americas 2007 for its human resources practices, according to PIA/GATF, a graphic arts trade association based in Sewickley, Pa., that represents more than 1 million workers.
The award program, which began eight years ago, evaluates companies based on their management practices, work environment, training and development opportunities, financial security, workplace health and safety, work-life balance, recognition and rewards and health and wellness programs.
Sunsights sets sights on isles
Sunsights by Solstice, a trendy offshoot of the more upscale New York-based
Solstice Sunglass Boutique
, is expanding in the islands.
The first Hawaii Sunsights store opened yesterday at Ward Centre.
Sunsights plans to open next Friday at the Queen Kaahumanu Shopping Center in Kahului, and is also planning to open on the Big Island soon. Additional stores are expected to open in Hawaii later this year.
Sunsights targets younger consumers with trendy styles and a mix of designer brands. Instead of keeping the sunglasses in display cases behind lock and key, customers are welcome to try on as many pairs as they wish from the store's open-style wall displays.
NATION
Tiffany sales don't glitter
NEW YORK »
Tiffany & Co.
, the world's second- largest luxury-jewelry retailer, said holiday sales growth shrank to 8 percent and lowered its annual profit forecast as its U.S. customers reined in spending.
The chain is reviewing its plans for sales and profit growth in 2008.
Sales at U.S. stores open at least a year declined 2 percent, New York-based Tiffany said yesterday in a statement. Total holiday sales rose 15 percent last year.
"A recent pullback in U.S. spending likely reflected a more cautious attitude among customers about the near-term direction of the economy and related factors," Chief Executive Officer Michael Kowalski said in the statement.
Gold pierces $900 level
NEW YORK » Gold futures briefly rose above $900 an ounce yesterday for the first time as high oil prices, a weak dollar and fears of a U.S. recession led uneasy investors to keep buying the precious metal.
An ounce of gold for February delivery on the New York Mercantile Exchange jumped $6.50 to $900.10 in morning trading, an all-time high and a psychologically important milestone. Gold later slipped below $900, but remained in record territory.
Still, when adjusted for inflation, gold remains well below its all-time high. An ounce of gold at $875 in 1980 would be worth $2,115 to $2,200 today.
---
BUSINESS PULSE